Two Roads & Evil Twin Brew Pachamama Porter for Second Collaboration
(Stratford, CT) – Last year, Two Roads Brewing Company from Stratford, CT and Evil Twin Brewing Company, originally from Denmark, made a trip to Iceland to find brewing inspiration from its landscape and cuisine. The trip resulted in a new collaborative beer called Two Evil Geyser Gose. This beer, which is brewed with Icelandic kelp, birch smoked sea salt and Icelandic skyr, became such a hit that it is still sold today. Two Roads and Evil Twin had such a good time making Geyser Gose that they decided to pursue future trips to celebrate craft beer culture and local cuisine in other countries while having a good time along the way.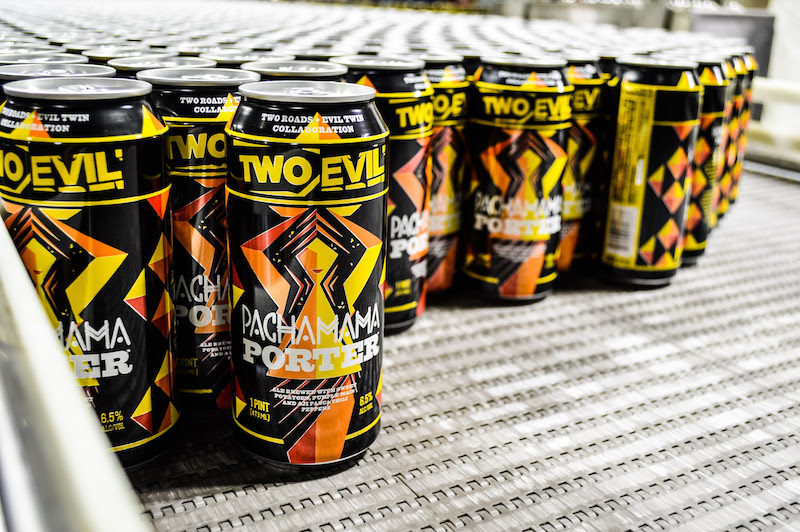 In the second of this Two Evil series, the team trekked to South America to find unique ingredients and brew a collaboration pilot batch at Cervecería Barbarian in Lima, Peru. Cervecería Barbarian opened its doors in 2011 and is one of the first breweries in Peru to make craft beers. The host brewers at Barbarian shared their passion for craft beer and Peruvian cuisine, and were incredibly accommodating and hospitable.
"When we picked Peru for this year's collaboration, it was because we love the country, its food and culture and because we wanted to do something very different from last year's trip to Iceland," said Evil Twin Brewmaster Jeppe Jarnit-Bjergsø. "Peru has become one of the leading countries for gastronomy over the last five years and we wanted to check out the beer scene there that's still young but growing rapidly. Peru didn't disappoint."
Two Roads and Evil Twin have paid homage to Incan heritage by using three Peruvian staple foods in this brew: Sweet potatoes, purple mais and aji panca chili peppers. Pachamama is a goddess revered by the indigenous people of the Andes; she is known as the earth mother in Incan mythology. Given that the main ingredients of the 6.5% ABV porter come from the rich Peruvian soil, the two breweries thought the name Pachamama fit this product beautifully.
Two Roads Master Brewer Phil Markowski added: "In designing Pachamama Porter, we were looking to incorporate the traditional staples of Incan cooking; purple corn, chili peppers and sweet potatoes in a respectful and measured manner. I feel we achieved all of that. The beer has a leaner body from the use of corn, a distinctive nuance from sweet potatoes and just the right amount of heat from the Peruvian favorite aji panca chili peppers. And importantly, it all remains in balance to produce a unique yet imminently drinkable porter."
The beer will be released in both Evil Twin's and Two Roads' markets on draft and in 4-Pack 16 oz. cans. The beer will also be available in the Two Roads' tasting room starting the week of October 4th.
ABOUT EVIL TWIN BREWING COMPANY
Evil Twin Brewing was founded by Denmark native Jeppe Jarnit-Bjergsø in 2010. The company exports to more than 35 different countries and is sold in 35 states in the US. Gypsy brewery, Evil Twin Brewing launched around 40 different beers in 2015 and at the moment brews at 8 different breweries around the world. In 2015, their total sales were 18,000 barrels. Jeppe also writes a travel blog for Munchies, a website by Vice Magazine and is currently headquartered in Brooklyn. Evil Twin is currently building a brewery in the Ridgewood section of Queens, slated to open in 2017.
ABOUT TWO ROADS BREWING COMPANY
Two Roads opened its doors in December 2012 having earlier acquired and renovated a 101-year-old vacant, brick factory building in Stratford, CT. Its name and philosophy are inspired by the Robert Frost Poem "The Road Not Taken"—a philosophy brought to life in the beers they create using the highest quality brewing and packaging equipment. Two Roads Brewery is open for tastings and tours everyday; for more information go to www.tworoadsbrewing.com.