Twisted Pine Brewing Takes 2 Medals at GABF 2012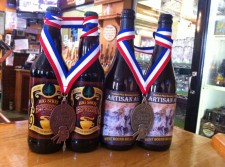 Boulder, Colorado – October 3rd 2012 – The only Boulder brewery to win more than one medal at this year's Great American Beer Festival, while the city claimed six and Colorado garnered a whopping 35 awards total, Twisted Pine showed on Saturday why beer lovers are paying more and more attention to the little 17 year old brewery nestled into the Rocky foothills.  This year's two medals are the brewery's 6th and 7th overall from the GABF.
Big Shot Espresso Stout won bronze in a field of 63 entries for the Coffee Beer category.  The new medal marks Big Shot's third success at the GABF, and the beer has been a real heavy-hitter for Twisted Pine as it also holds a World Beer Cup silver and medals in the last two U.S. Open Beer Championships.  In addition, the ale was recently listed as the #1 coffee beer in the United States, based on cumulative competition results.  The full-bodied, fuller-flavored stout gets its extra perk from blind-roasted Peruvian coffee provided by Boulder's local Unseen Bean.
The big winner on the day, though, was West Bound Braggot which took home gold in the Specialty Honey Beer category.  Twisted Pine's modern take on a medieval classic, West Bound features subdued sweetness from orange blossom honey and subtle depth from the addition of Buddha's Hand citrus and Tasmanian pepper berries.  The beer appeared earlier this year as part of the brewery's Artisan Ale Project and also won a silver medal over the summer at the Colorado State Fair.
West Bound Braggot disappeared from the shelves months ago, as it was a special one-off brew made for the Artisan series.  Twisted Pine has saved a few kegs, however, and will be serving it up at their Ale House while supplies last.  Big Shot is currently available across the brewery's distribution network in 22 oz. bottles and in draft form.
Based in Boulder, Colorado Twisted Pine Brewing Company has been handcrafting beer since 1995.  They are the brewers of such favorites as "Hoppy Boy IPA," "Raspberry Wheat Ale" and "Billy's Chilies."  The Ale House is a very popular local hangout and boasts 17 taps, 5 rotating.  Twisted Pine is active with local charitable organizations and a strong believer in sustainable business practices.   You can find more information at www.twistedpinebrewing.com.