Tröegs Splinter Black Release Date Announced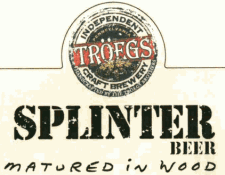 From Tröegs Facebook Page, we find out when Splinter Black (An Imperial Stout aged in an American oak barrel with coco nibs and vanilla beans) will be released.
Splinter Black Release Date Announced! Troegs Splinter Black goes on sale Wed, Dec 15, starting at 8am at Troegs Brewery. We have a significantly larger quantity of Splinter Black than other beers in this series. With cold weather approaching, we ask that you don't stand in line all night.
We will be handing out wristbands at 6am and will start sales two hours earlier than usual. There is a two bottle limit per customer. We will have two lines dedicated to cash sales so we ask that you pay with cash to help speed up purchases. Look for complete parking & sales details on www.troegs.com on Mon, Dec 13.