Troegs News Update – Nugget Nectar and Latest Scratch Series Beer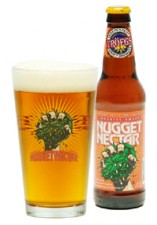 Some good  pieces of beer news found in Troeg's latest newsletter. Cheers!
Nugget Nectar 
With bottle production in full swing, we're now gearing up for phase two of our Nugget Nectar release. You can expect Nugget to hit draft lines in mid-February (around Valentine's Day) throughout our eight-state distribution area and continue into early March. "We're excited by the amount of positive customer feedback we've gotten about Nugget Nectar this year," said John Trogner. With increased production in 2013, expect to find Nugget Nectar flowing in your favorite local drinking establishment. Also, we will package 22oz. bomber bottles during the first week of February, so you can anticipate the release date to coincide with the draft version. To locate Nugget Nectar and other Tröegs beers in your neck of the woods, check out our Brew Finder.
Scratch Beer Update
Scratch #87 – Bourbon Barrel-Aged Troegenator – It's been quite some time since our last barrel-aged release. Well, we were so excited about this bourbon barrel-aged version of our flagship year-round Double Bock, Troegenator, that instead of bottling it, we decided to make it available exclusively in our Tasting Room! Everything you love about Troegenator is present – the strong malt aroma, rich chewy body, and warm, tingly spiciness. With that said, it was time well-spent in the bourbon barrel for this already dense, delicious treat. The Nator returns after more than five months from its holiday inside Heaven Hill bourbon barrels. The result is a lush Double Bock with undertones of vanilla, oak, toasted coconut, and tangy bourbon warmth. Released on 1/30/13. Availability: Tasting room draft only. This is an extremely limited batch. Sorry, no growler fills.
Scratch #88 – Cocoa Stout – Slated for a Valentine's Day release, we have an ambitious Cocoa Stout in the works. Stop by our Tasting Room with your special Valentine and give them a rich, chocolatey memory they're sure to cherish for years to come! Read more about our upcoming Cocoa Stout below. Availability: TBD.