The Rare Beer Club, Pints for Prostates & Atom Brewing Want You To Name Their Beer
(Lake Forest, CA)  –The Rare Beer Club® is collaborating with Pints for Prostates and Atom Brewing Company, located in Erie, CO, to create a Farmhouse Imperial Stout that will be open fermented in their custom oak fermenters using a house blend of wild yeast.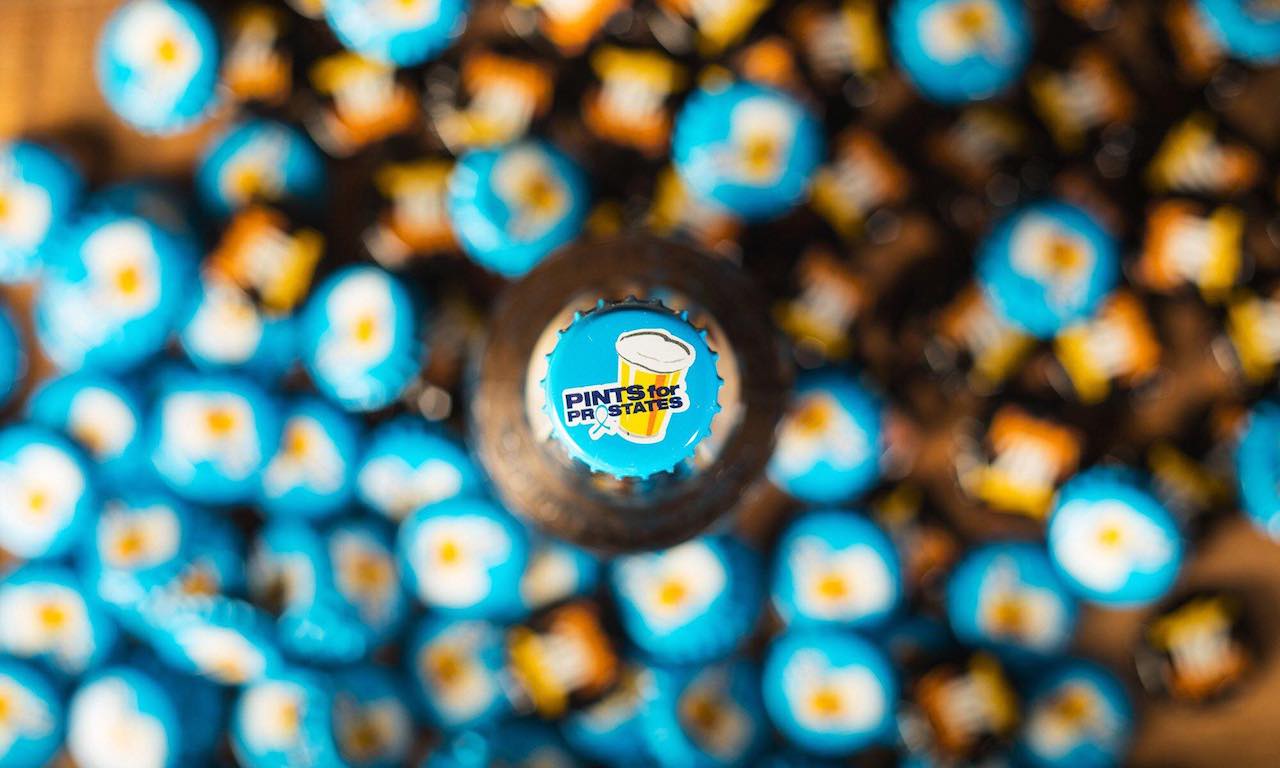 Atom Head Brewer/Founder Jeff Porn plans on replacing oats with malted sunflower seeds, considered to be a beneficiary dietary component of prostate health. The beer will be aged in neutral oak barrels and packaged still, which is how Atom has produced all of their stouts to date, allowing for more time in the barrel. "We're really excited about this beer and the opportunity to be a part of this cause", states Jeff. "The combination of open fermentation and our yeast blend lends a dry earthiness to the notes of roasted maltiness, dark fruit, coffee, and dark chocolate. We'll purposefully package it uncarbonated as we feel that drinking it 'still' allows for the best experience of all these characteristics."
The beer will be brewed exclusively for members of the club to benefit the Pints for Prostates campaign, which has been reaching men through the universal language of beer since 2008. It will be named by the public and the contest winner will receive a free 6-month, 2-bottle membership to The Rare Beer Club.
Rare Beer Club owner Kris Calef commented, "I'm excited to be working with Atom for the first time. They're truly a farmhouse operation, from their custom oak fermenters to the cedar lined ceiling that allows wild microflora to flourish, Jeff and Chris are true artisans creating exceptional small batch, hand-crafted beers. I love that they're packaging their beers still. Not a lot of breweries doing that these days. Big Stouts always play well with our customer base, and I'm sure this one will be well received."
The limited-edition label will feature the Pints for Prostates logo, which includes the blue ribbon to remind people of the importance of early detection in the fight against prostate cancer, a leading cause of death among American men. "The annual release of a special beer through The Rare Beer Club helps us to connect with guys and urge them to take charge of their health by getting screened for prostate cancer," said Rick Lyke, a prostate cancer survivor who founded Pints for Prostates after successful prostate cancer surgery in April 2008. This is the tenth year that The Rare Beer Club and Pints for Prostates have collaborated with a craft brewery to produce a unique awareness beer.
Entering the Beer Naming Contest
Although the new beer will only be available to members of The Rare Beer Club, both members and non-members are invited to enter the contest and submit up to three names for the new beer. The contest officially begins on Wednesday, May 8th, 2019. Entrants will have until 2 pm PDT on Wednesday, May 22nd, to submit up to three names.
Finalists will be chosen by The Rare Beer Club, Pints for Prostates, and Atom Brewing Company on Thursday, May 23rd, at which time contestants, club members, and the general public can vote for their favorite name. The winning entry will be announced on Friday, May 31st.
There are only two ways to get to try this unique beer from Atom Brewing Company: Join The Rare Beer Club online or call 800-625-8238 and be sure to start your membership by September 2019 or earlier or attend the 11th annual Denver Rare Beer Tasting, a Pints for Prostates fundraiser held on October 4th in Colorado during the Great American Beer Festival. Atom Brewing will be featured at the event and pouring this special release.
About The Rare Beer Club® and The Microbrewed Beer of the Month Club™
For over 25 years, The Rare Beer Club® and the Microbrewed Beer of the Month Club™ have provided members with exclusive and uncommon craft beers selected from the world's top breweries. Members of The Microbrewed Beer of the Month Club can choose from 5 different craft beer subscription box options, each of which ship twelve beers in up to 4 different styles from renowned domestic and foreign craft breweries. The Rare Beer Club®, originally founded by world-renowned beer expert Michael Jackson, features the finest in limited-release, celebratory, and artisanal beers. Members receive two different 750-ml bottles in each shipment brewed in a wide variety of styles, including farmhouse ales, imperial stouts, and barley wines. For more information on The Rare Beer Club and The Microbrewed Beer of the Month Club, visit BeerMonthClub.com.
About Pints for Prostates
Pints for Prostates reaches men through the universal language of beer to encourage them to take charge of their health. The group was founded by prostate cancer survivor and beer writer Rick Lyke in 2008. The grassroots effort raises awareness among men about the importance of regular men's health screenings by making appearances at beer festivals, social networking and pro bono advertising. According to the National Cancer Institute, approximately 240,000 new prostate cancer cases are diagnosed annually in the U.S. More information is available at www.pintsforprostates.org. Pints for Prostates also has a presence on Facebook, Twitter and Instagram (@pints4prostates).
About Atom Brewing Company
Atom Brewing Company is an independently-owned small "Family Farmhouse Brewery" located in Erie, Colorado. Focused on Open Fermented, Barrel Aged beers only utilizing yeast and bacteria that were obtained organically from around the brewery. Using ingredients grown at the brewery or sourced only from small family farms we make completely natural beer, beer that truly represents being made from a place.
FOR MORE INFORMATION CONTACT:
Kris Calef, President
The Rare Beer Club®
949-206-9107, Ext. 100