The Rare Barrel 2016 Ambassadors of Sour Enrollment Details
(Berkley,CA) – The Rare Barrel shares details on their upcoming 2016 Ambassadors of Sour beer club. Much like beer clubs from The Bruery, Cigar City and more, this club will offer an allotment of exclusive beers and merchandise. Cheers!
We are excited to announce that we are opening enrollment for Ambassadors of Sour, our 2016 beer club! Below is a summary of the club details, followed by a detailed description of benefits. We highly suggest you read all of these details prior to joining Ambassadors of Sour.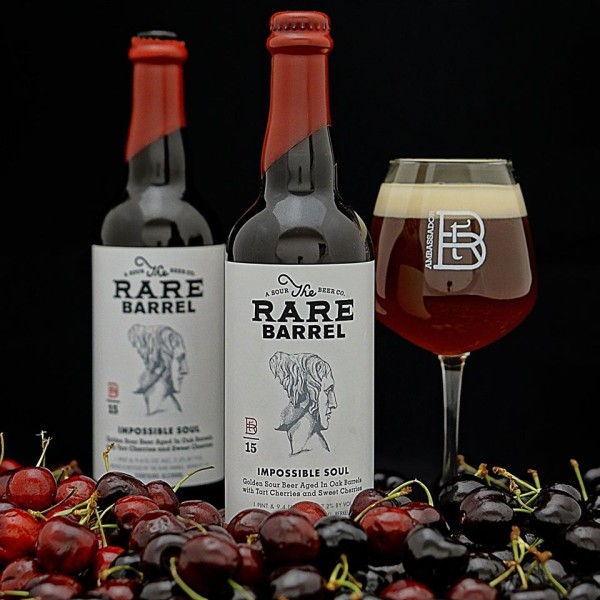 Important Dates
September 1st at 9AM PST – September 15th | reenrollment period for current Ambassadors
October 1st at 9AM PST | enrollment opens to new members
SUMMARY
Ten 750 mL bottles of sour beer (our choice)
First right to purchase most bottle releases online
10% discount on all purchases in tasting room and online
One custom growler
Two pieces of custom glassware
Membership ID card
First right of acceptance for 2017 membership
Option to pick-up beer at brewery, ship within California (at an additional cost), or assign a trustee
Cost – $300 (+tax), non-refundable
Membership in Ambassadors of Sour is priced at $300 (+tax). Membership benefits, which are designed for one person, commence on January 1st, 2016 and conclude on December 31st, 2016. Here are more details about Ambassadors of Sour.
ALL THE DETAILS
10 Sour Beers
As an Ambassador of Sour, you will receive 10 bottles of sour beer that the blenders at The Rare Barrel will create specifically for you and the other members. Of the 10 bottles included in the membership, we anticipate that there will be two bottles each of five different brands. These beers will be blended specifically for the Ambassadors. In order to preserve quality, we do not commit to any specific releases or any release schedule. As such, your bottles may be released at any point in 2016. In the case of a slight overage in blending, The Rare Barrel plans to offer Ambassadors the opportunity to purchase additional bottles online or in person. We also plan to cellar some of these excess small-batch blends for the purpose of a vintage release at a later date or for serving at special events. Our intent is for these beers to be available just for the Ambassadors of Sour, but if we have an excess after 2016 we may offer them for special events or to the public for on-site consumption in the tasting room in 2017 and beyond.
First Right to Purchase Bottled Beer
In 2016, we plan to release other bottles that are not included in the Ambassadors of Sour membership. As an Ambassador, you will have the first right to conveniently purchase a limited number of bottles of most bottled releases through the website (www.therarebarrel.com). Ambassadors will have access to purchase non-club releases online before the public has access to them in the tasting room, on our website, or other distribution channels. We may sell the draft version of a particular release before we sell the bottled version.
10% Discount
Ambassadors of Sour will receive a 10% discount on all beer, merchandise, events, and food purchases made through the Tasting Room and website. The Ambassadors discount does not apply to membership renewal or purchases made by your trustee.
Custom Growler
Ambassadors of Sour are guaranteed a custom growler that is unique to the club. When the Tasting Room is open, Ambassadors will have access to fill their growler with the "Ambassadors Fill". The Ambassadors Fill is one beer that we designate as the club's growler fill for that week. Only Ambassadors will be able to fill their growler with the Ambassadors Fill. We also expect to sell glass growlers through the Tasting Room in the future. When this begins, we plan to have two options available for growler fills. Ambassadors will have access to both growler fills, while non-club members will only have access to one of the fills. Ambassador branded growlers can be filled by anyone in possession of the growler (i.e. you can have a friend fill your Ambassador growler with the Ambassadors Fill in your absence). Empty growlers can be picked-up in the tasting room or shipped at an additional charge. We do not ship full growlers, and do not recommend shipping any growlers with beer in them. In order to control our limited supply of sour beer, we will only fill growlers branded by The Rare Barrel.
Custom Glassware
Each Ambassador will receive two pieces of glassware that are specific to Ambassadors of Sour.  Glassware can be shipped (at additional charge) or picked-up in the tasting room.
Membership ID Card
Membership includes a personalized, non-transferrable, membership card. Members must present this card in the Tasting Room to receive the 10% discount.
First Right of Acceptance to 2017 Membership
Ambassadors of Sour will have the first right to re-enroll in the 2017 club. The number of memberships available for 2017 is currently undetermined, but will be based on production volumes and our ability to provide club members with limited release blends. Either way, each Ambassador will have the opportunity to re-enroll.
Order Shipping and Pick-up
Ambassadors will have three options for fulfilling their orders placed online. Ambassadors can either pick-up beer at the brewery, ship beer to their house/business in California, or a designate a trustee to pick-up their beer from the Tasting Room for them.
Pick-up at brewery – Ambassadors have the convenience of placing orders online and picking them up in the Tasting Room, at no additional charge. Orders can only be picked-up from the Tasting Room during normal Tasting Room hours. Beer purchased through the membership may be stored at The Rare Barrel until March 31st, 2017. If you do live locally and visit the Tasting Room, we ask that you please pickup your bottles and do not use our brewery as a cellaring facility. Our space is limited and this will help ensure we can continue to offer this benefit.
Shipping within California – Ambassadors have the opportunity to ship their beer to any residential or business address in California at an additional cost. We currently fulfill orders once per week. When we ship beer in California, we usually ship orders on Tuesday and they usually arrive on Wednesday. Shipping costs in California for next-day delivery range from approximately $15 for one bottle to $26 for 12 bottles. If you would like to save on shipping costs, Ambassadors have the option to combine orders and ship multiple orders at once. While we may open online sales to the public in 2016, only Ambassadors will be able to delay their shipments and combine multiple orders into the same shipment.  The Rare Barrel is only legally allowed to ship to addresses within California, even if your state allows beer shipping. A signature and government issued ID proving that the person accepting the packing is 21+ years of age will be required upon delivery. We cannot ship beer to P.O. boxes.
Trustee – Ambassadors of Sour may designate a Trustee to pick-up their beer in the Tasting Room. This is a great option if you live outside of California and are not able to visit the Tasting Room or ship your beers in California. Ambassadors may also ship their beer to their trustee (or anyone else 21 years of age or older) if he or she lives in California.  The 10% discount and other club benefits do not apply to Trustees.
Events
We will throw various events throughout the year, and Ambassadors may get early notice or priority to tickets for some events, but membership does not guarantee access to events.
Expiration
Enrollment in Ambassadors of Sour is valid through December 31st, 2016. Beer purchased through the membership may be stored at The Rare Barrel until March 31st, 2017.
Termination of Membership
Each person is allowed to have a maximum of one membership. If a member is found to have multiple memberships, we reserve the right to cancel and refund the unused portion of all of that person's memberships.
All beer purchased and obtained through your Ambassadors of Sour membership is for the purpose of consumption. Drink the beer, enjoy the beer, or trade it with your friends. However, please do not resell our beer without obtaining a wholesale account with us. Reselling bottles without a wholesale account with The Rare Barrel is illegal and can jeopardize our and your ABC license. Licensed retailers are prohibited from purchasing beer as an Ambassador of Sour unless it is solely for personal consumption and not for resale or distribution. If a club member is found illegally reselling our beer, their membership will be canceled.
Questions
Phew… that's a lot of info to digest. If you have any other questions about Ambassadors of Sour, feel free to email us [email protected] or call us at 510.984.6585 x5!