The Fort Collins Brewery Introduces The FCB Art Brewery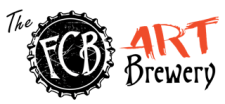 (Fort Collins, CO) – Creativity is a core ingredient of beer, so FCB has a natural affinity with others engaged in creative activities and wants to see them succeed. That's why FCB is partnering with the new Downtown Artery, a Fort Collins organization that provides artists with affordable studio and presentation spaces, to create the FCB Art Brewery: a studio that artists can use to explore the combination of beer and visual art.
The FCB Art Brewery will be occupied by one or two FCB Art Brewers who will work on several beer-inspired pieces and produce artwork for FCB's limited release Tap Club series in addition to other non-beer-related projects.
The Art Brewers will retain complete ownership of their work, receive a VIP Tour and Tasting at FCB, and their work will be promoted through FCB's website, social media, press contacts, and friend and family network.
New Art Brewers will be chosen every four months, and FCB is accepting applications for the first Art Brewers from May 3rd to May 24th.  Winners will be announced by the end of May and can move into the studio immediately.
The grand opening of the Downtown Artery will take place on Friday June 7th, and the doors will be thrown wide open so art and beer lovers can check out the new facility, meet the Art Brewers, and sample some of FCB's liquid art. Thereafter, the Downtown Artery will be hosting exhibitions on the first Friday of every month so the public can see works of the FCB Art Brewers and all the other artists in the building.
Those not in driving range of Fort Collins can keep tabs on what is going on in the FCB Art Brewery on FCB's website, social media pages, newsletter, and YouTube channel.
For more information about the FCB Art Brewery, including how to apply to be an Art Brewer, visit fortcollinsbrewery.com/artbrewery.
Additional links:
Downtown Artery
Website: Downtownartery.com
Facebook: Facebook.com/downtownartery
FCB
Website: fortcollinsbrewery.com
Facebook: facebook.com/fortcollinsbrewery
Twitter: twitter.com/fortcollinsbrew
YouTube: youtube.com/FortCollinsBrewery