The Foo Fighters Rocked Oskar Blues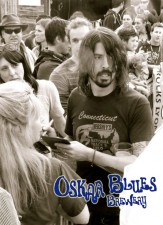 Lyons, CO – The rock band Foo Fighters performed Monday afternoon at Oskar Blues in front of a select crowd as part of a private event.
The concert took place in The Barn, a structure that sits just west of Oskar Blues Grill & Brew restaurant and that once served as the brewery's canning facility.
"It was the coolest thing ever," said Gayle Gordon, on whose behalf, along with husband Ken Feldman, the concert was staged.
The couple were the local winners of the BlackBerry-sponsored Garage Tour Contest, which they entered through Denver radio station 93.3 FM. Contestants were asked to explain in writing why the Foo Fighters should play a show in their garage.
The concert in fact took place at Oskar Blues instead of the couple's home, located up Longmont Dam Road, because the Foo Fighters' road managers worried that an equipment truck would not make it up certain mountain roads, Feldman said.
The couple were allowed to invite 50 of their friends to attend the concert. Some came from as far away as Texas. After the show, they got to hang out at the Oskar Blues bar with band members, including frontman Dave Grohl.
"They're like the nicest guys," Gordon said. "They're very down to earth."
Grohl reportedly ordered several shots of Petrón tequila.
Oskar Blues learned that it might serve as the concert site last week, according to the venue's talent buyer and sound engineer, Dave McIntyre. The engagement was not confirmed until Monday.
The performance began at about 4 p.m. and lasted about an hour and a half, venue general manager Chris Portillo said.
"It was better than our wedding," said Ani Okun, who was in the audience with her husband, Bob. The Okuns, who own FastSigns in Boulder, came to the concert equipped with a banner that read, "Foo Fighters Rock Lyons, Colo."
Grohl signed the banner with the words, "That was fun."
The Okuns said they were in the front row for the show.
"The two of us had an amazing mosh pit going," Ani said.
Feldman said band members remarked that playing to such a small audience in an intimate venue was more fun than playing in front of arena crowds.
"They seemed to be just as excited as we were," he said.
The couple were restricted in who they could tell about the show, Feldman said. He said half the people he invited to the concert were told only to be sure to request off work Monday afternoon and to arrive at the appointed place.
"I said, 'If you ever trusted us for anything, trust us now,'" he said.
The Foo Fighters' latest album, "Wasting Light," was recorded in Grohl's garage.
The Garage Tour includes eight stops. The band was scheduled to play a garage in Dallas today.