The Bruery Unveils New Growler Format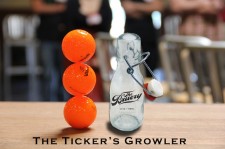 There has been a lot of grumbling about growler laws in California these days and it seems that all that attention has brought a change in the growlers at The Bruery, though not in the way you might have expected.
This week, they are launching a new growler line called the "Ticker's Growler" that will allow their tasting room guests to fill 2oz growlers of any beer that they'd like and take it home with them.
"People like to collect tastes," says The Bruery's Director of Marketing, "so why not make it easier for them and give the people what they want?"
With the advent of social media into the craft beer community, it is quite true – people are often checking into a beer on Untappd or rating a beer on either BeerAdvocate and RateBeer instead of simply enjoying an entire pint of beer with their phones in their pocket.  The concept of the "tick" has been around for a few years now and is basically akin to collecting baseball cards or comic books – the more the merrier.
"It's almost the same in the world of foodies.  You never actually ate anything until you take a photo and upload it to instagram to prove that you ate it and make your friends jealous,"  Weiss continues, "plus, we know that people like to trade beers across the country so that they can get their hands on the really hard to find, non-distributed beers.  This makes that process much easier for those looking to quickly sample a number of our beers and up their tick-count without paying outlandish shipping fees for enormous and heavy boxes."
The new Ticker's Growlers will be of a similar 'swing-top' format as The Bruery's standard 64oz growler and will be sold at a relative cost.  The glass itself will be just 50¢ and beer fills will range from 50¢ to $2 depending on the draft price and rarity of the beer.  The Bruery will be filling these special, 2oz growlers with any and all of their offerings from standards like Mischief to extreme rarities like Grey Monday.
The Ticker's Growlers will go on sale beginning tomorrow, April 2nd, at The Bruery's Tasting Room and while they will not confirm nor deny, there is strong reason to believe they will kick the new growler sales off with a number of limited cask conditioned beers available for 2oz fills, including Black Tuesday with guarana, Sour in the Rye aged in Redwood barrels, and Quadruple Dry-Hopped Humulus Lager.