The Bruery – Last Weekend In The Original Tasting Room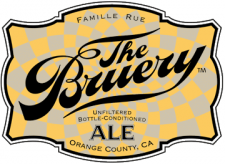 From The Bruery — As many of you have noticed, over the past few months we have been constructing a brand new Tasting Room next to our current location. That beautiful new space will be opening up next week, which means two things; First, that this is our last weekend in our current tasting room and second, that next week we are going to get to break in our new space!
This weekend is going to be a bittersweet time for us, as we will be moving out of our current little Tasting Room into something bigger and better. Many of you have been coming to our brewery to try our brews for years and years. For those of you that remember our Tasting Room when it opened, Patrick, Rachel and Tyler used to man some jockey-boxes behind where our current bar sits. We only had a couple of beers on draft and crowds were far and few between. Times have changed drastically now, with more beers on draft, a bigger staff and more people here every weekend. Join us this Sunday from 12-6 to help give this old space a great send off. All Sunday we will work to drink our taps dry, with each keg kicked symbolically ending that draft line's pouring run forever. We will also be pouring a special randall of Tart of Darkness through tart cherries. If you love our current space, come in and pay your respects.
The following week we will be continuing the fun in our brand new space next door. Our first day open will be the 4th of July — what better way to celebrate Independence Day than with 41 — yes, you read that correctly– Bruery beers on tap! We will be open from 12 PM to 7 PM that day and from then on will be open 7 days a week! Our hours from that day forward will be:
Monday-Thursday: 5:00 PM – 10:00 PM
Friday: 2:00 PM – 10:00 PM
Saturday-Sunday: 12:00 PM – 10:00 PM
As always, we should have some fantastic food trucks around for everyone to try. Friday night Garlic 'Scapes will be up with some stinkin' rose based concotions, Saturday night Sexy Burger will bring their tasty burgers around and Sunday the Bite Truck will be here for our last day in our current Tasting Room.
This weekend at the Tasting Room we're pouring:
Saison Rue
Mischief *
Loakal Red *
Saison de Lente '11
Saison de Lente '10
Trade Winds
Mother Funker
Nottenroth*
Burly Gourd
Tart of Darkness
Go Team!**
Gremlin
Tart of Darkness with Tart Cherries (Sunday Only, Limited)
* Growlers Available
** RS Growlers Available