The Bruery Black Tuesday Info and Other Reserve Society Info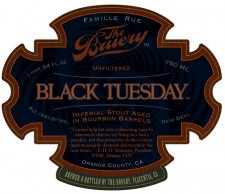 We have gotten a few pieces of the puzzle for The Bruery's Upcoming Black Tuesday Release  as well as info on more Reserve Society Releases. Black Tuesday is a massive Imperial Stout that was voted Best Imperial Stout by you, the readers of TheFullPint.com Here is a press release passed along by a Reserve Society with tons of interesting tidbits.
From The Bruery –

We know you've been patiently awaiting the next releases for Reserve Society members, so here's a little calendar for what we have lined up.
The first round of releases will be available for purchase online on Wednesday, August 11th and will include:
⁃    100% Barrel Fermented Autumn Maple – Our fall seasonal barrel fermented with brettanomyces and aged for 10 months in previously used bourbon barrels. Rich, funky and satisfying, this beer has become a Bruery staff favorite. $20/bottle
⁃
⁃    Provisions Series: Gunga Galunga – A black beer with Thai influence. Brewed with brettanomyces, kaffir lime leaves and galangal (also known as Thai Ginger, but it's not too ginger-like), this smooth, dry and roasty beer has clear notes of fresh citrus, crushed herbs and will complement a spicy curry beautifully. $15/bottle
⁃    Provisions Series: Premiére: This Bourbon Barrel Aged Belgian Golden Strong will serve as the commemorative beer for the opening of our new Tasting Room/Bottle Shop location in Old Towne Orange, but we wanted to give you the first chance to try it. $15/bottle
Each beer will have a 3 bottle purchase maximum and your 15% membership discount will be applied. The anticipated release date is late September.
On September 15th, Reserve Society members will have the opportunity to purchase the following beers:
⁃    Black Tuesday: A beer that needs no introduction. $30/bottle
⁃    Vitis Series: Sour Grapes – A dry and vinous beer with hinst of smokiness and a touch of oak. First running press of Pinot Noir grapes from Santa Barbara County were added to a year old blonde sour ale (called by many names around here, one you may be familiar with is Cuvee Jeune) and fermented together in stainless. The grape beer was then transferred to wine barrels and aged for 10 months. The beer is pleasantly tart, complex and refreshing; it can easily substitute a sparkling wine for any celebration. $20/bottle
Each beer will have a 2 bottle purchase maximum and your 15% membership discount will be applied. All 2010 Reserve Society members will also automatically receive 1 bottle of Black Tuesday in addition to their purchase as part of their current membership. These beers will be released in late October.
When ordering these beers, the usual guidelines apply:
⁃    If your order is for more than one brand of beer, please make sure to order all bottles in one order.
⁃    Beers will be shipped upon release. Please refer to the above for release dates for each of the beers. If you choose to have them shipped to your trustee, that is when your package will leave The Bruery.
⁃    Your order will be processed according to your choice of PICK UP or SHIPPED – we are unable to make changes – so be sure to choose your method carefully!! In order to expedite shipping, we'll have a flat shipping & handling charge per release. Shipping charges are $16.50 if your order is between 1 and 3 bottles, $22.00 if your order is between 4 and 6 bottles and $27.00 if your order is between 7 and 9 bottles.
⁃    PLEASE DO CHOOSE FEDEX SHIPPING IF YOU'D LIKE US TO SHIP YOUR BOTTLES. DO NOT CHOOSE UPS SHIPPING.
⁃    "Pickup" orders will be available at The Bruery ONLY during Tasting Room hours (Friday & Saturday 4 – 10 pm and Sunday 12 – 6 pm).
⁃    Only those who have "Reserve Society" status on our eCommerce site will be able to order these releases. If you are a Reserve Society member and don't have an account on our eCommerce site, please sign up and eMail [email protected] to give you access to the releases.
To place an order, go to http://www.brueryprovisions.com/, sign in and click on the Reserve Society tab on the left.
Also on the horizon, we're gearing up for the 2011 Reserve Society and current Reserve Society members will have the right to reserve their membership for next year so we'll be getting in touch to let you know when you can renew. Finally, Black Tuesday is October 26th and we'll update you soon, so stay tuned for details!
EDIT – For the beers that go on sale tomorrow, August 11th, you will have THREE WEEKS to get your orders in, so that gives you all until 11:59pm PST on September 1st to get in your orders.