The Bruery Black Tuesday 2010 Release – Brief Update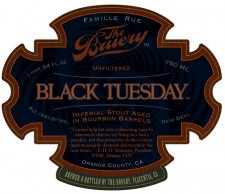 Yesterday, we shared info on the upcoming, anticipated Black Tuesday Release. Here is an update with more clarifications.
We forgot to mention what time the tickets for the celebration would be going on sale on September 1st. The answer is 9am PST.
Further, there's been a little confusion about the 1 ticket per person setup. Just to clarify, this means that our system will allow only one item per transaction. If you're interested in coming with a friend/girlfriend/boyfriend/family member, that person must set up an account on our eCommerce site and purchase a ticket.
We are also not offering a Designated Driver ticket so please plan accordingly.
These guidelines have been set in the interest of fairness and of giving as many people a shot at joining us for the release party as possible. Please keep in mind that this is not your only opportunity to obtain bottles of Black Tuesday, there will also be a sale the following morning (October 27th) for the remaining bottles.
We appreciate your understanding and your support and we look forward to seeing you in October!
Cheers,
Your friends at The Bruery