Terrapins Got Belgium on the Brain – Monk's Revenge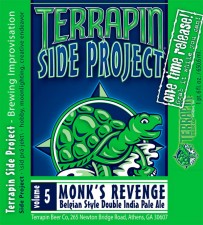 Side Project Volume Five – Monk's Revenge
In early March Brian "Spike" Buckowski, Terrapin's brewmaster, and a collection of the Terrapin sales staff journeyed to Belgium. While they were on a drinking tour of one of Europe's most celebrated beer regions the remaining Terrapin brewers were back at home watching over Terrapin's fifth Side Project – the Monk's Revenge Belgian Style Double India Pale Ale!
Terrapin's Monk's Revenge is inspired by the seven Trappist Breweries that were also the source of the yeast "Spike" used to ferment Side Project Volume Five. With the malt bill of a Belgian Tripel and the hop bill of a double I.P.A this beer has earned the nickname "the Big Nasty" around the brewery. "We were over there drinking all these great Belgian beers and the whole time we were thinking about this beer in the tank back home," said Buckowski.
Don't let the nickname fool you. hidden beneath the flavor and aroma of a double I.P.A. lays the malt character of a fine Belgian tripel. This beer promises to be as special as the monks who inspired it. You won't have to look hard to find food pairings for this Belgian improvisation. Our money is on a big bowl of mussels and a pile of pome frites.
Terrapin Beer Co.'s Side Project is a limited release series of beers that showcase Buckowski's experimental creations. The beers are sold in 22 ounce bottles and draft at restaurants, bars, and package stores across the Southeast.
Terrapin Beer Co. is housed in a 45,000 square foot brewery in Athens, Ga at 265 Newton Bridge Road. They offer tours of the facility Thursday, Friday and Saturday nights from 5:30 – 7:30 with live music and tastings. The tours are an excellent opportunity to taste Terrapin's full line of award winning beers and see the brewing process first hand. For more information visit the web site www.terrapinbeer.com.