Terrapin Beer – New Beers for Summer 2010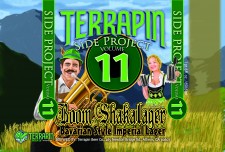 We just got this fantastic list of new beers from Terrapin, we'd like to share with you the good news!
June Releases:
Side Project Volume 11 – Boom Shakalager: Spikes latest improvisational beer creation is a lager crafted with all German malts, hops and yeast "for an aggressive flavor that will wind most anyone's cuckoo clock!" That last part is straight from Spike.
This amber beer has balance of sweetness and bitterness complimented by a bombardment of citrus from a dry hopping with German Tettnanger hops. 22oz bottle
OG: 19.5 FG: 3.2 ABV: 9.0%
HOPS: Magnum, Pearle, Hallertauer Mittelfruh, Tettnanger, (dry hop)
MALTS: Pilsner, Munich Malt, Vienna, Caramunich II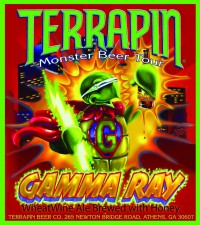 Gamma Ray – the June release of our Monster Beer Tour is ready to hit the shelves! This is our second vintage of this massive wheat beer brewed with local Georgia coast Tupelo and Sourwood honey. At 10.8% ABV the Gamma Ray got a real punch but tasting this well balance beer you wouldn't know it. We love it for its broad pairing potential and intense flavors. 12oz bottle
IBU's: 40 O.G.: 22.6 ABV: 10.8%
HOPS: Pearle, Mt. Hood
MALT: 2 Row Pale Malt, Munich Wheat , Carapils, Acidulated.
HONEY: Tupelo & Sourwood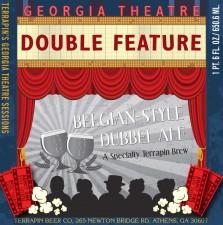 Double Feature – Session Two of the Georgia Theater Sessions – This special series of beers, there will be four, is a fundraiser to support rebuilding the Georgia Theater, an Athens Ga landmark that burned down in 2009. This session is named for the period around 1918 when the theater was renovated into an art deco movie house. This "Belgian-Style Dubbel" is brewed with 100% Belgian Malts and authentic Trappist yeast and has all the characteristics of a fine Trappist Ale. 22oz bottle
As a special bonus, each 22oz bottle will be in a sealed container and one box of each release will contain a Golden Ticket for a lifetime pass to the rebuilt Georgia Theater. The ticket from session one has yet to be found!
ABV: 7.7% O.G.: 17.2 F.G.:3.2
MALT: Belgian Pilsner, Belgian Munich, Belgian Aromatic, Belgian Biscuit, Belgian Crystal 45, Belgian Special B
HOPS: Goldings, Hallertau Hersbrucker
SUGAR: Belgian Candi Syrup Dark, Belgian Amber Candy Sugar
July Releases: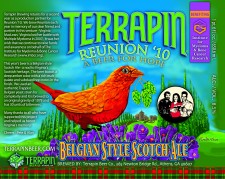 Reunion Beer – A Beer for Hope – Belgian Style Scotch Ale – This is the second time Terrapin has participated in this annual fundraiser for the Institute for Myeloma & Bone Cancer Research. With all the malt back bone of a traditional Scotch Ale, this beer combines malt, hops and a nontraditional Trappist yeast to place this beer in a category all its own. 22oz bottles
ABV: 8.4% F.G.: 4.1 S.G.: 19.2
MALT: 2-Row Pale, Munich II, Carapils, Malted Wheat, Roasted Barley
HOPS: Godlings