Terrapin Beer Co. Releases New Variety Pack With Krunkles Throwback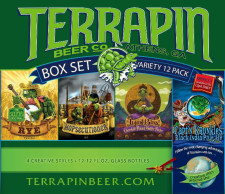 Athens, GA – Old classics, a new face, and an ode to a legend have made it into the newest release from Terrapin Beer Co. The Box Set variety 12-pack will include three of their year-round selections, along with a bonus track from the adventurous hop connoisseur, Krunkles.
The Box Set will include newcomer Liquid Bliss, a 2012 Side Project turned year-round selection, back by popular demand. The chocolate peanut butter porter recently hit shelves and is sure to serenade you with that sultry feel.
Given special permission, Terrapin's old friend Krunkles is back with his first single, Capt'n Krunkles Black IPA. Krunkles had made a few appearances at Terrapin in the past between his journeys as the world's most famous IPA brewer; however, this time around the Box Set variety pack will be the only place to find his hoppy brews.
Lastly, favorites Hopsecutioner and Terrapin Rye will be the ballads that complete this Box Set. This mix's tastes and aromas are almost too much to be contained. Go sweet or chocolaty, dark or light, or malty or hoppy all in one pack.
Track 1: Hopsecutioner
Track 2: Rye
Track 3: Liquid Bliss
Track 4: Capt'n Krunkles
Where in the World is Krunkles? In the New Terrapin Box Set!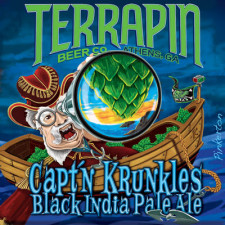 Almost one year after his last appearance, legendary IPA brewer and intrepid world traveler/hop hunter Krunkles will again release his hoppy elixirs to Terrapin Beer Co.'s most devout fans. This time, though, he'll be dressed a bit differently. Krunkles has graciously given Terrapin permission to put his potions into 12 oz. bottles and package them alongside current Terrapin favorites in a brand-new variety pack!
To commemorate Krunkles' return, Terrapin will be re-releasing the very first Krunkles recipe ever discovered: Capt'n Krunkles Black IPA.
From the label:
Legend has it that Capt'n Krunkles is the most feared pirate on the high seas. No one who has seen him, his great ship, or his band of pirates has ever lived to tell about it–until now. Made with a bombardment of hops to defeat your taste buds in battle and all the black malt you can stand before walking the plank, this IPA will make it worth going down with the ship. Capt'n Krunkles
. . . where is he? I don't know . . . I don't know.
ABV: 7.5%
IBU: 90
OG: 17.3
Hops: Warrior, Columbus, Nugget, Centennial, Simcoe, (Zythos – Dry Hop)
Malts: 2-Row Pale, Dark Munich, Crystal 24, DH Carafa III
Capt'n Krunkles Black IPA is the first of Krunkles' hit singles to be released in the Box Set variety 12-pack. In future Box Sets, new Krunkles brews will be jamming out.
The Box Set variety 12-pack has begun shipping to select areas and will be available throughout Terrapin's distribution network in August.
www.terrapinbeer.com – @TerrapinBeerCo – facebook