Tallgrass Releases Hoppy NES Inspired Pale Ale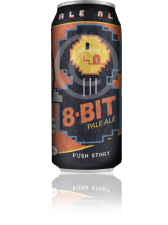 In a smart way to attract the kids of the 80's, Tallgrass Brewing is set to release a very hoppy ale, inspired by the classic Nintendo Entertainment System of yesteryear. Here are the fun clues Tallgrass gave, as well as a shot of the can (revealing the name 8-Bit Pale Ale) it will come in!
According to our beer survey, many of you want to see us do some crazy off-the-scale hophead brew. You got your wish. Our next beer, on the shelves around the first week of February, will be a hop-rocketed pale ale.
We are very excited about this beer. Our taste tests with hop-addicted drinkers say it is one of the best they've ever tasted. Even the non-hop worshiping drinkers find it very tasty.
So what exactly is a "hop-rocket"?
It isn't a plan for evacuating all the hops in case the planet is in danger. (Although, we support this idea if anyone wants to work on it.)  A hop-rocket is a way of infusing beer with more hops flavor. We shoot the brew through more hops after the brewing process, imbuing it with even more of that magical hops taste that people can't seem to get enough of.
Why the classic Nintendo Entertainment System?
We wanted to brew a beer that tastes like the way it felt to play the classic NES? We think we did it, but you'll have to wait until February to see if we succeeded.