Tallgrass Brewing Co. News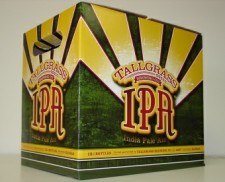 New Distribution for Kansas
It's a good day for beer lovers in Kansas! Thanks to a new distribution deal between Tallgrass Brewing Company and the distributors of Anheuser-Busch products in Kansas , beer drinkers in Kansas will be seeing a lot more of their favorite Tallgrass beers beginning May 1, 2009. The agreement will deliver your favorite Kansas brewery's popular craft beers through Anheuser-Busch's local wholesalers.
"We look forward to working with each local wholesaler," said Tallgrass founder Jeff Gill. "This means our beer is going to get to our beer drinkers in Kansas fresher and with greater availability."
The deal includes the distribution of all three signature beers – Tallgrass Ale, Tallgrass Wheat, Tallgrass IPA – and all future beers on tap and in bottles in Kansas.
The partnership promises to serve both businesses well. This marks the first time the Kansas Anheuser-Busch wholesaler network has worked with a craft beer outside of the Anheuser-Busch alliance of products. By distributing this up-and-coming craft brand out of the Flint Hills, these wholesalers are tapping into the growing market opportunity of craft beer in Kansas. According to the Brewers Association, estimated sales of craft beers from 2007 to 2008 jumped 5.8% by volume and 10.5% in value, propelled by the public's support for local breweries and a growing taste for craft beers.
Tallgrass Brewing Company is thrilled to be working in tandem with the same distribution network as the nation's best-selling beers. "We are now within the best beer wholesale system in the state," Gill said. "They are the industry leaders, and we're very excited to have them distributing our beers. We look forward to growing our Kansas businesses together."
Northern Exposure
Tallgrass Brewing Company is ready to break out of it's Kansas boundaries and bust into Nebraska! We thought it was about time to share some Tallgrass goodness with our beer drinking neighbors to the North!
As in Kansas, the Anheuser-Busch wholesaler network will distribute Tallgrass in the Cornhusker state.. Quality Brands, the Anheuser-Busch wholesaler in the Omaha metro area, will be the first one to introduce Tallgrass Brewing Company's
brands to the state.
The state softdrink might be Kool-Aid (Seriously… look it up!) but the state brew is about to be Tallgrass!
The first shipment of Tallgrass was shipped to Omaha today. Meaning? Now you can take a trip to the Omaha zoo without sacrificing access to your favorite Kansas brew.
"This is an exciting step for Tallgrass," Jeff says. "We're ready to let people in Nebraska enjoy our beers!
"Burn Calories, Buy 12-Packs!
Tallgrass fans can now lug a dozen Tallgrass IPA bottles home all in one box. And guess what?! The average person burns 24.8 calories carrying one of these twelve packs home from the liquor store. (OK, I actually completely made that up.)Tallgrass IPA 12-packs hit liquor store shelves across the state of Kansas in mid March!
The bright forest green and golden yellow boxes were designed with beer quality in mind. The IPA is entirely enclosed in the shiny box guarding if from light damage and drastic temperature changes, keeping the beer fresh longer.