Sydney bartender judged best beer pourer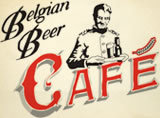 Part-time Sydney bartender Nicholas Drabble has been crowned Australia's top beer puller after just two years working behind the bar to support himself through university.
The 21-year-old student collected the official title of Australian Draught Master in Sydney after a tense battle with seven other finalists from across the country.
But when the pressure was on, Drabble didn't dribble.
The finalists were judged on a complex nine-step procedure needed to pull the perfect beer – covering everything from glass preparation to body movement.
He will now represent Australia in the World Draught Master finals in Belgium next month to try to prove that Aussies can not only drink beer, but pour it as well
"I'll just go over there, do my best and hopefully come up with a similar result as I did today," Mr Drabble said.
"I'm gunna go get amongst it and show that the Aussies can pour beer."
Mr Drabble, who studies business at university, perfected his art while working at his local pub, The Epoque Belgium Beer Cafe, at Cammeray in Sydney's north.
"It's good working in a pub where you're not just pouring the same old Aussie beers everyday. It's a bit different, with 40 different beers," he said.
Mr Drabble has come to love the industry and hopes to combine his business studies with his amber liquid skills.
"Hospitality is an area I really enjoy. I love working with people," he said.