SweetWater Motorboat – Catch & Release Fall Seasonal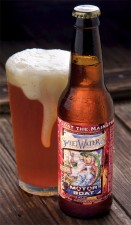 Coming off last year's tremendous success for SweetWater's Motorboat fall Catch & Release seasonal we are ready to dive back in.
According to Freddy Bensch the Big Kahuna at SweetWater "Winning a Silver medal at the Great American Beer Festival in 2008 in the first year the beer was offered left my cheeks rosy for the rest of the year!" The brand caught fire with the nationwide recognition and SweetWater ran through all the beer they had in six short weeks. This year six packs and draft will be available though out the Southeast on August 7th and they promise to have enough to last until the beginning of October this time around.
This titillating version of an ESB is dry hopped with Cascade hops and finishes just shy of 6% abv. This bright malty red ale has a nice set of complex flavors. Its built for speed and pleasure for the old sailor in you!