SweetWater Celebrates 15 Years with 2 New Beers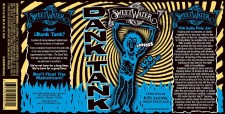 SweetWater is celebrating 15 years of Heady Beers, and ripping a few Dank Tank releases out before the warm weather kicks in (for most of us it hasn't really left yet).
15 Years of Heady Beers
What began as a pipe dream for a couple of kids fresh out of college (one of 'em actually graduated!) who were looking to keep the free beer flowing for themselves, and hopefully make enough dough to feed the dog has turned into pumping close to 100,000 barrels of beer per year out of here! (that translates to 200,000 kegs or 1,378,000 cases – we've tried, but we can't drink it all!)
We are ripping the doors off this place on Feb 18th from 2 – 6 and pulling out all sorts of kegs from our stash hole. We'll be showing off the new expansion we just built, and we have the boys from Like a Locomotive playing throughout the day. You'll be able get a sneak peek at some of the casks we are creating forBrew Your Cask Off that day as well.  Tell a friend, and help us celebrate the festivities.  Check out the full list of beers we will be pouring on our Facebook event page.
Two Releases fresh from the Dank Tank

420 IPA – will only be in 22oz bottles and out next week
Tingling with excitement, el Danko hopped the fur bus and rolled to the Panic show at the Fox. Boogieing down to Chilly Water, he noodled into a cute little wookie who blew his mind and yanked him for some post show get down at the Clermont Lounge. Stumbling and bumbling with Blondie, he got booted, and went home for some shut eye. Dreaming of the wet wookie, he awoke to his dog licking his tongue, realizing he was late for his night shift at SweetWater. Fumbling through his brew and dry hopping duties, el Danko hit the wall, and passed out mid-shift. Waking up to Nick Nock screaming WTF, he frantically ran around putting out fires. As the haze cleared he realized he had left the mill running jacking up the O.G. and dry hopped the wrong tank. Fuddied up after the most insane 36 hours, el Danko pondered his delirious creation, a chubby 420 India Pale Ale! Huh?? Ducking trouble, he quickly swept the abominable snowman under the rug, as he sent the 420IPA to the bottling line boys in an effort to hide his momentous f'up.
15 Years of Heady Beers – bottling and kegging this one next week, should be out on draft and in stores by early / mid February (our actual birthday is Feb 17th!)
Lots more detail to come on this one, but for now we can share that this is a step back to our roots as a brewery.  We dug up the original ESB recipe from the old days off of Fulton Industrial and gave it a big ol bump.  Check the quickie video, and you'll see one our original founders, Kevin McNerney, came back to create this one with us.  Should be a mouth full of goodness, and we'll be drinking plenty of it at our party on the 18th.