SweetWater Adds Hop Hash To Year Round Lineup
(ATLANTA,GA) – As India Pale Ales (IPA) continue to trend as the No. 1 segment in the craft beer category and fastest growing overall beer segment, SweetWater Brewery is upping the ante on the style with a new twist. Rolling out as the brewery's newest year-round lineup – Hop Hash, a double IPA infused with hop hash – will be making its way onto to shelves throughout SweetWater's footprint this October.
Brewers decided to throw a sticky SweetWater signature on this hopped up concoction, promising to deliver the dankest double IPA around. After scraping the hop pelletizers clean in Yakima, WA, brewers used bricks of the pure hop lupulin – a very concentrated form of hop resin also known as hash – to cook up a brew that would deliver a pungent punch to the palate.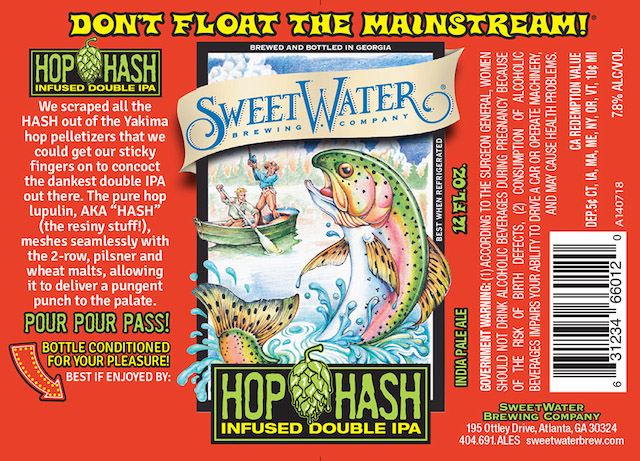 Focusing heavy on the hops, Hop Hash is brewed with a hefty dose of American citrus hops, as well as Cascade, Centennial, and Simcoe hops along with the hash blend. The brew's pale malt bill, comprised of 2 row, pilsner and wheat, creates a clean foundation setting the stage for the hop hash to burn bright on the palate. The hop bill exudes a creeping bitterness up front from the Centennial, followed by the flavor and aroma from the hash packing a stealthy, smooth citrus finish at 7.8-percent alcohol by volume.
"It's always fun to be able to experiment and offer something that's truly unique," said SweetWater Founder and Big Kahuna Freddy Bensch. "We've literally been toying with this concept since our days back in college. As IPAs continue to dominate, we're excited to take the style to the next level using the dankest hop hash we could get our sticky fingers on!"
Hop Hash will be available in 6-packs of 12oz. bottles and on draft lighting up shelves and draft stations starting early this October. This hopped up fatty will be sustaining all seasons, joining the brewery's lip-smackin' lineup for a year-round run. Pour, pour pass!
For more information on SweetWater Brewery or its full lineup, please visit www.sweetwaterbrew.com.
###
ABOUT SWEETWATER BREWING COMPANY: Living by the motto "Don't float the mainstream," SweetWater Brewery has been blazing its own path in craft beer throughout the Southeast since its inception in 1997. With a brewer calling the shots, quality of beer—and life—are always most important in crafting a lineup of lip-smackin' brews. Widely known for its flagship 420 Extra Pale Ale, SweetWater also serves up an ever-evolving Catch & Release seasonal lineup of brews and an off-beat, one-off Dank Tank series. SweetWater invites folks to join them for tours and tastings of their Atlanta brewery every Wednesday through Sunday. Visit www.sweetwaterbrew.com for more info about SweetWater, or hang out with your social thang out by following SweetWater on Twitter/Instagram @sweetwaterbrew, or on Facebook at facebook.com/sweetwaterbrew. And always remember; drink 'em if you got 'em!