Surly Brewing Wins Bronze for Coffee Bender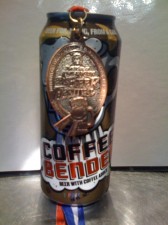 From Omar Ansari at Surly Brewing
Hello Surly Nation,
-Surly won a Bronze Medal at the Great American Beer Fest! Coffee Bender brought home the hardware for coffee beers. To celebrate, we will be doing a few things at the 501 Club tomorrow night (September 29th). $2 pints of Coffee Bender and we will tap a firklin of Cask Darkness. See you there! 501 Club is located at 501 Washington Ave S. www.501.mn
-SurlyFest was a blast! Thanks to the volunteers, the bands and all that made it out.
-The folks at Channel 12 news came out to talk to us about our big win in Denver. Check out the story today on the news. www.twelve.tv
-Speaking of TV and Surly, KARE11-TV's Boyd Huppert's story on Surly Brewing got a regonal Emmy for his story on the brewery! Check it out at www.kare11.com/news/investigative/extras/extra_article.aspx?storyid=698424&catid=57
-If you are a hombrewer, check out the info on the American Homebrewers Association Rally above!
-Look for the Surly Keg Trailer at Grumpy's Downtown for the Vikes – Packers game. See you before the game.
-Darkness Day is October 24th, info above.
-We release our new Wet Hop beer next week. See you at Roat Osha next Wendsday to check out his new one. Located at 2650 Hennepin Ave S. www.roatoshathai.com
– I had not been to 1st Avenue since they put Surly Beer on draft. I checked out Built To Spill last week and had a blast. It was awesome to see our beer on tap at a place I had been to 50+ times in my life. Pretty cool.
omar ansari
surly brewing
www.surlybrewing.com