Surf Brewery Releases Candy Lemon IPA
(Ventura, CA) –  "We just love working with friends and incorporating local ingredients into our beers." gushes Head Brewer Nick Velasquez.  Surf Brewery®, a small Southern California brewery with onsite tasting room and homebrew shop, introduced their latest Surf Seasonal IPA, Candy Lemon IPA.   Nick mentions, "Our Candy Lemon IPA tastes just like it sounds.  We would like to thank our good friends at Tierra Sur restaurant in Oxnard, who helped us create this unique IPA, along with Ventura Limoncello for their expert peeling skills.  We used local lemons to create the lemon peel candy that we added into the boil and dry hopped with Galaxy,  Sorachi Ace and Motueka hops.   Enjoy with some California grilled tri-tip."  Available on draft and in bottles throughout Southern California.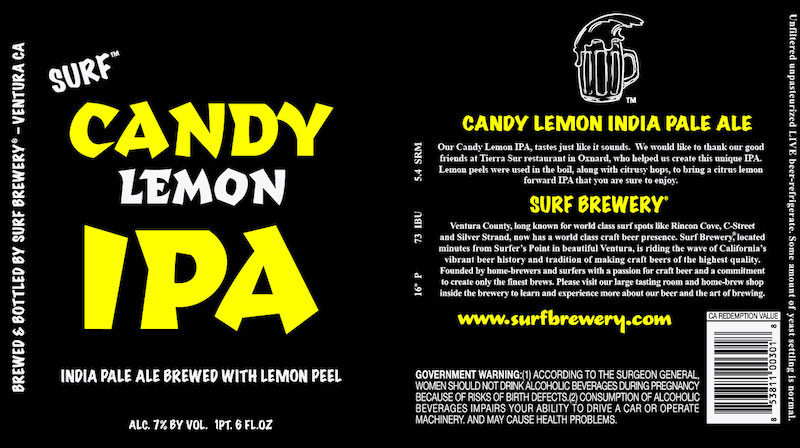 Alcohol by Volume 7% ● Bitterness (IBU) 73 ● Color SRM 5.4
About Surf Brewery®:  Ventura County, long known for world class surf spots like Rincon Cove, C-Street and Silver Strand, now has a world class craft beer presence.  Surf Brewery®, located minutes from Surfer's Point in beautiful Ventura, is riding the wave of California's vibrant beer history and tradition of making craft beers.  Founded in June, 2011, by home brewers and surfers with a passion for beer and a commitment to create only the finest brews using the highest quality ingredients.
4561 Market St., Ste A, Ventura, CA 93003.  805-644-BREW
www.surfbrewery.com,  Facebook.com/surfbrewery        Instagram:surfbrewery