Stop By And Say Hello To Hangar 24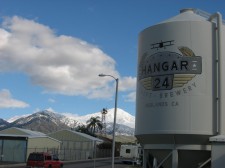 Remember the question some had a while back, "Who the @#&$ is Hangar 24?', well, The Full Pint team has an answer. Okay, more like some answers, or a really long answer.
Hangar 24, located in, Redlands California is an up and coming force on the craft brew scene. Situated in an old airplane hangar, across the street from an airport, in and amongst orange groves, sits quite a tidy little operation. The nice people at Hangar 24 treated The Full Pint crew to an interview, tour and beer tasting, so we could," scientifically evaluate", the whole situation, of course.
Whisked away by Jon and Dan of thefullpint.com, We arrived in Redlands in no time at all, we thought it was further away, so no excuses people, just a quick trip East on the 210, and you're there. The drive was highlighted by stunning views of the snow in the San Berdoo mountains, and the remnants of vast tracts of orange groves, very nice on the eyes indeed. Upon arrival, we made our way to the bar, asked to speak to Ben and Kevin, but they weren't there yet, darn, time for a few pints to get the day started. I got an IPA, Dan got some Orange Wheat, and Jon had some Alt Bier. Not bad, the Orange wheat was bitter and crisp, cloudy, and quaint. We noticed the aroma of oranges wasn't very strong, and the taste was slight, but the burps were great. I know, not exactly one of the hallmarks of a good beer, but interesting to note, this being the first time such a phenomenon has occurred. The Alt style was nice, amber colored, malty, just what it was supposed to be. My IPA was pretty good, I'd say more Eastern U.S. style than the West Coast hop bombs we dig on out here, very balanced, hoppy in all the right places, pretty good drinking beer.
After a few minutes, Ben, the owner, and Kevin, the head brewer, showed up, we did a little meet and greet, got a tour and talked about all the usual beer geek stuff. These guys have really good intentions, they make good beer and are moving forward, helping to give beer a better name. We then proceeded to taste everything they had available, 9 beers. The star of the show was the Winter Warmer, with spruce tips and cinnamon, among other things. This is where things started getting really cool for me, the spruce tips were harvested in the mountains just above the brewery.The beer was excellent, screamed winter time, and really made a lasting impression on me. We then got into a conversation about the Orange Wheat, if we were to look out the front door to the left, we could see the grove where the oranges came from. These tasty treats are harvested and used within 24 hours, and the whole fruit is used, we even saw the machine used to grind 'em up. The cool thing about this beer is, there are no bittering hops used, it's all orange pith and natural oils, yum! I like the whole local, sustainable agriculture thing, another nod to the team, they recycle the spent grain as well.
After tasting all the beer we could muster, I've come to the conclusion that they make some really good beer. They pretty much make something for everyone, not a linear theme of mediocrity, some beer is better than others, but no stinkers at all. Unfortunately, not all the beer is available in bottles, currently they have Orange Wheat and Pale Ale available in a limited market. I seem to remember Kevin saying that IPA was next, but don't hold me to it. Make the trip out there if you can, make a day of it, check out the views and kick back in the Hangar. The ambiance is great, kegs for stools, and plenty of choices for beer, merch and these cool growler pumps that turn your growler into a mini keg..
If you're hungry after, try Eureka! Burgers in Redlands, Good draught selection, nice atmosphere, tasty burgers, cool music, and oh yeah, they have Hangar 24 on tap!