Stone's New Collaboration Beer With Estate Pumpkins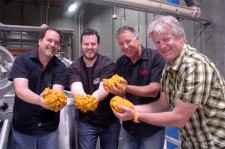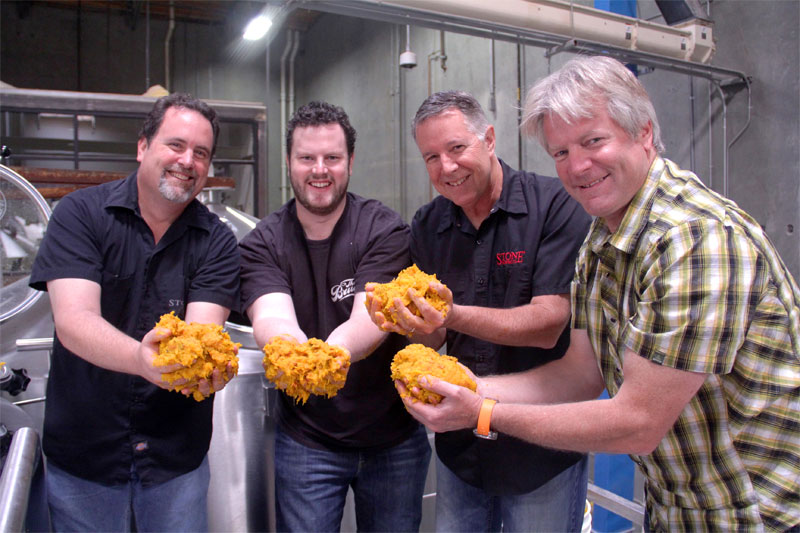 Escondido, CA – Stone Brewing Co. announces its newest collaboration beer available beginning today and rolling out in select markets across the country over the next few weeks. Stone Brewing Co.'s Steve Wagner and Mitch Steele worked with The Bruery's Patrick Rue and Tyler King (Placentia, CA), as well as Elysian Brewing Company's Dick Cantwell (Seattle, WA) to develop Bruery / Elysian / Stone La Citrueille Céleste de Citracado, an amber ale brewed with pumpkins grown on Stone Farms, yams, rye, toasted fenugreek, birch bark, and lemon verbena.
"All of us are kind of known for big, imperial beers, and the fact that we came together to make this mellower pumpkin beer… I think it was very restrained and dignified of us," jokes Rue. "And I think we brought some really interesting spice additions to the table."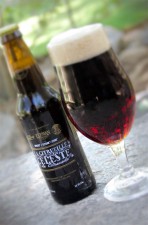 The eclectic mix of ingredients was selected to introduce a decidedly different spin on traditional pumpkin beers. "The taste starts with citrus and herbal notes, but then a very smooth roasted malt character comes into play," Steele explains. "The yam and pumpkin make their appearance on the finish, with some Eastern-influenced spiciness and trace maple notes from the toasted fenugreek, combining with hints of birch. This is no pumpkin pie beer. No cloves. No nutmeg. No cinnamon."
Stone Brewing Co. President Steve Wagner had been tossing the idea around for a pumpkin beer with Elysian Brewing Company for over a year. Elysian, well known for conjuring up an impressive variety of pumpkin beers as well as hosting the annual Elysian Great Pumpkin Beer Fest, was quick to come on-board and loved the idea of working with The Bruery, which is highly respected for its innovative beers including Autumn Maple (made with "a lot of yams").
"That's the great thing about collaboration beers," explains Cantwell. "Everyone brings their own strengths and awareness to the project."
"This is one of the more unique beers I have ever been involved with," says Steele. "A very cool beer, and I toast the creative minds of Patrick Rue and Dick Cantwell for their willingness to put this recipe together with us."

Bruery / Elysian / Stone La Citrueille Céleste de Citracado
Malt bill: Pale, Rye, Crystal, Chocolate Rye, English Brown, Aromatic, and Honey malt
Hops bill: Warrior, Motueka
Adjuncts: Pumpkins (grown at Stone Farms), yams, toasted fenugreek, lemon verbena, birch bark,
Stats: 5% abv, 47 IBUs
Brewers:
The Bruery – Patrick Rue (CEO/Founder), Tyler King (Head Brewer);
Elysian Brewing Company – Dick Cantwell (President/Head Brewer);
Stone Brewing Co. – Steve Wagner (President/Co-Founder), Mitch Steele (Brewmaster)
Availability: Limited, one-time brew. Single 12-oz. bottles and draft.
Distribution: AZ, CA, CO, FL, IL, MA, NC, NM, NY, OH, OR, PA, SC, TX, VA, VE, WA
Release date: October 17 in Southern California, rolling out other markets over the next several weeks

La Citrueille Céleste de Citracado Collaboration Video
Suggested pairings, provided by "Dr." Bill Sysak
Appetizer/Main Course: Manchego cheese, roasted turkey or fowl, panzanella salad, mushroom ragout, butternut squash, grilled vegetables
Dessert: Bananas Foster, pumpkin pie, poached pears
Cigars: Hoyo de Tradicion Toro Grande, llusione Epernay Le Ferme
ABOUT STONE BREWING CO.
Stone Brewing Co. was founded in 1996 by Steve Wagner and Greg Koch in North County San Diego, CA. It is the 14th largest craft brewery in the United States and has been named "All-Time Top Brewery on Planet Earth" by BeerAdvocate magazine – TWICE! A recently announced $26.6M expansion plan (that includes a hotel among other lofty ventures) is underway, as are developments to become the first American craft brewery to open a brewhouse in Europe. Visit stonebrew.com for more information.