Stone RuinTen Triple IPA Celebrates Fifth Straight Year
(ESCONDIDO, CA) – The ever-popular Stone RuinTen Triple IPA otherwise known by Stone Brewing as "a stage dive into a mosh pit of hops" is back to satisfy palates of the highest order of hop fanatics. The triple IPA will make its annual return in 22-ounce bottles and on draft at select retailers, bars and restaurants where Stone beer is sold, beginning the week of June 20.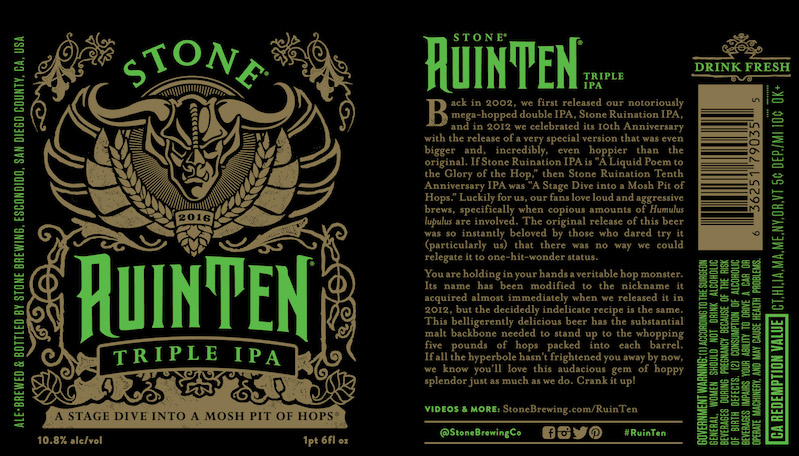 Stone RuinTen Triple IPA is the cranked-up version of Stone Ruination Double IPA 2.0, introduced in 2012 to honor the original's 10th anniversary. At 10.8 percent alcohol by volume and with a walloping dose of hops, Stone RuinTen Triple IPA has (very appropriately!) earned a perfect score of 100 on RateBeer.
"This is a big, bold beer packed with hops," said Stone President & co-founder Steve Wagner. "We dry-hop it with five pounds of hops per barrel to get this vibrant, over-the-top flavor. Since its debut in 2012, Stone RuinTen Triple IPA has become a favorite among Team Stone and our fans, so we're thrilled to brew the recipe once again."
Stone RuinTen Triple IPA showcases intense, dank and fruity aromatics with hints of mint and spice. Fans will enjoy an abundance of tropical fruit flavors that carry throughout the palate before giving way to a long, clean, bitter finish. The amped-up malt bill perfectly balances the massive hop character and provides a full-bodied mouthfeel while also creating an elevated ABV.
Stone RuinTen Triple IPA should be enjoyed as fresh as possible to experience the full flavor impact created by Magnum, Centennial and Citra hops. Hopheads, rejoice! It's yours for the taking.
QUICK FACTS
STONE RUINTEN TRIPLE IPA
Name: Stone RuinTen Triple IPA
URL: stonebrewing.com/ruinten
Stats: 10.8% ABV, 110 IBUs
Availability: Limited 22-ounce bottles and draft, beginning June 20
Hop Varieties: Magnum, Centennial and Citra
National Distribution: AL, AR, AZ, BC, CA, CO, CT, DC, DE, FL, GA, IA, ID, IL, IN, KS, KY, LA, MA, MD, ME, MI, MN, MO, MT, NC, NE, NH, NJ, NM, NV, NY, OH, OR, PA, RI, SC, TN, TX, VA, VT, WA and Puerto Rico
International Distribution: Australia, Germany, Hong Kong, Japan, Korea, Mexico, the Philippines, Singapore, Sweden, Taiwan, Thailand, and United Kingdom
Find Beer: find.stonebrewing.com
About Stone Brewing
Founded by Greg Koch and Steve Wagner in 1996, San Diego-based Stone Brewing is the 10th-largest craft brewer in the United States. Stone has been listed on the Inc. 500 | 5000 Fastest Growing Private Companies list 11 times, and has been called the "All-time Top Brewery on Planet Earth" by BeerAdvocate magazine twice. The multifaceted company will be the first American craft brewer to independently build, own and operate a brewery in Europe, and is also building a production brewery and destination restaurant in Richmond, Virginia. Brewing at both locations will be underway in summer 2016. Known for its bold, flavorful and largely hop-centric beers, Stone has earned a reputation for brewing outstanding, unique beers while maintaining an unwavering commitment to sustainability, business ethics, philanthropy and the art of brewing. For more information on Stone Brewing, please visit StoneBrewing.com or the company's social media sites:Facebook, Google+, Instagram, Pinterest, Twitter and The Stone Blog