Stone Merc Machine, Latest Stone Spotlight Series Beer Is Available Nationwide
(ESCONDIDO, CA) – The Stone Spotlight Series competition engages in-house two-person teams that vie for the chance to have their recipe brewed and distributed nationwide. This year's winning team of Miguel Ceja Andrade and Brandon Berube rolled in like mercenaries and were crowned champions for their East-meets-West Coast IPA creation. The beer begins infiltrating restaurants, bars and retailers this week.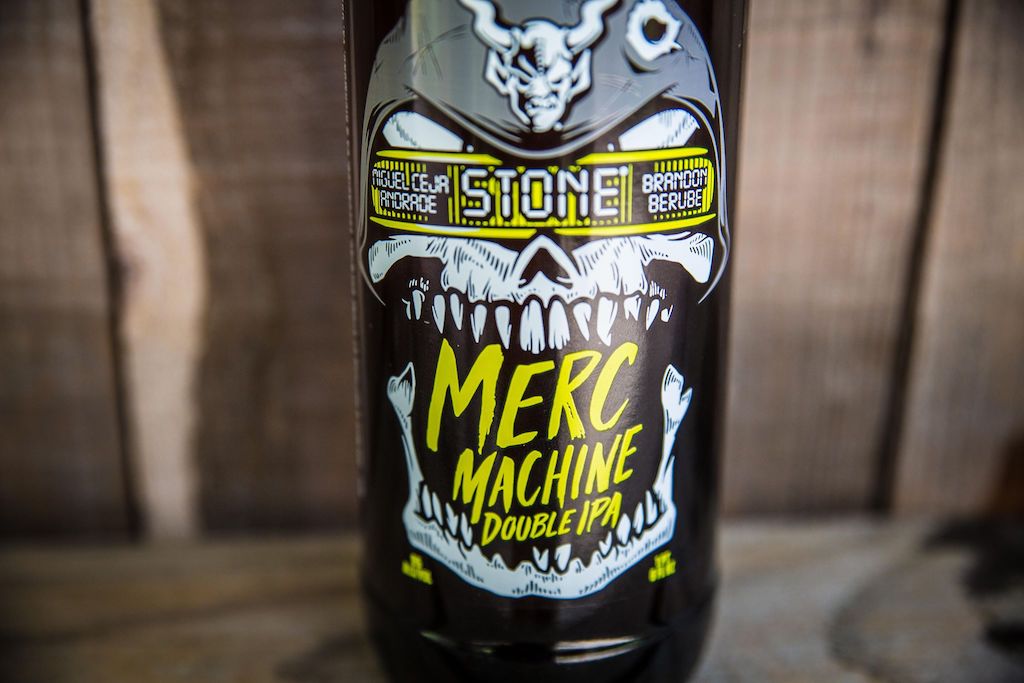 Both Miguel and Brandon love a good hoppy IPA with classic West Coast style bitterness but had been scoping out the juicy fruit characteristics of the trendy New England style IPA. So the inspiration for their winning brew came from a desire to combine the two for a high ABV, juicy beer that's insanely delicious. Miguel Ceja Andrade / Brandon Berube / Stone Merc Machine is one of the most intense hop experiences Stone Brewing has ever created (and that's saying a lot).
Stone's crowning Spotlight Series beer pours golden with some haze and a tropical, fruity aroma layered with a hint of dankness and an underlying biscuit malt aroma. Dankness complements apricot and tropical fruit flavors. It's mildly bitter with a touch of alcohol, a testament to the 9% ABV.
"We have some amazing, passionate, and talented brewers here at Stone Brewing," said Jeremy Moynier, Stone's senior innovation brewing manager. "The Stone Spotlight Series is the perfect place to showcase these talents and Brandon and Miguel hit it out of the park with this beer that combines different aspects of IPA. We are a hop-driven brewery and it was genius for them to use the combo of Cascade, Amarillo, and Simcoe in the way that they did. It was awesome to brew this beer on the big system and we are totally proud of these guys. I can't wait to kick back, relax and enjoy the explosive flavor of this beer!"
Miguel Ceja Andrade / Brandon Berube / Stone Merc Machine will be available for a limited time in select states in 22oz bottles and draft.
QUICK FACTS
Name: Miguel Ceja Andrade / Brandon Berube / Stone Merc Machine
Web: stonebrewing.com/mercmachine and stonebrewing.com/beer/spotlight
Stats: 9% ABV, 48 IBUs
Availability: National, limited release in 22-ounce bottles and draft
Featured Hops: Cascade, Citra, Simcoe and Amarillo
National Distribution: AZ, AK, CA, CT, IA, IL, IN, MA, MI, MN, MO, NV, NY OH, PA, RI, TX, UT, WA, and WI
International Distribution: Australia, Costa Rica, Germany, Hong Kong, Japan, Korea, Mexico, Singapore and Thailand
Find Beer: find.stonebrewing.com
About Stone Brewing
Founded by Greg Koch and Steve Wagner in 1996, the groundbreaking San Diego-based Stone Brewing is the 9th largest craft brewer in the United States. Recognized as an award-winning, industry leader, Stone has been listed on the Inc. 500 | 5000 Fastest Growing Private Companies list 12 times, has been called the "All-time Top Brewery on Planet Earth" by BeerAdvocate magazine twice. The multifaceted company is the first American craft brewer to independently build, own and operate their own brewery in Europe (Berlin, Germany), and also opened a production brewery in Richmond, Virginia in 2016. Known for its bold, flavorful and largely hop-centric beers, Stone has earned a reputation for brewing outstanding, unique beers while maintaining an unwavering commitment to sustainability, business ethics, philanthropy and the art of brewing…and pledging to never, ever, sell out to the man.  For more information on Stone Brewing,  please visit stonebrewing.com or the company's social media sites: Facebook, Instagram, Pinterest and Twitter.