Stone Go To IPA Debuts Today!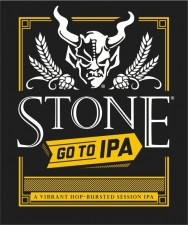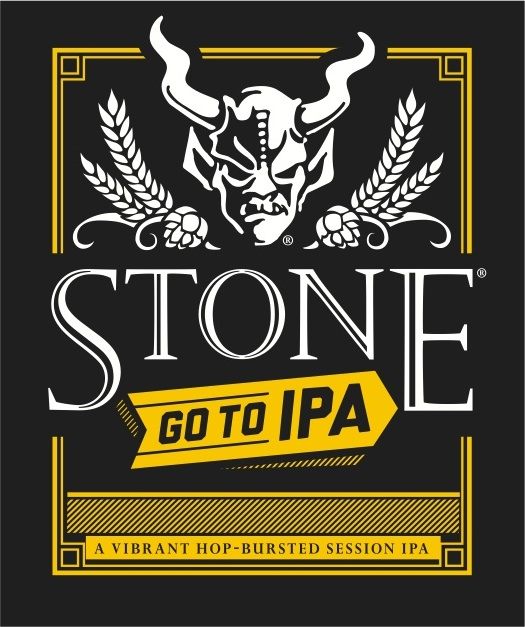 ESCONDIDO, CA (March 3, 2014) – Intensely hopped and big-flavor brews are known to be quite the passion for Stone Brewing Co. Taking another step in their lupulin obsession, the craft beer company is pleased to introduce Stone Go To IPA. This vibrant hop-bursted session IPA is the tenth addition to Stone's year-round lineup and, starting today, fans will be able to find the new release in 12-ounce bottle six-packs and on draft at retailers in all of the states where Stone beer is distributed.
Stone Go To IPA is 4.5 percent alcohol by volume (ABV) and, therefore, considered a "session" beer. Session beers are defined as ales or lagers below five percent ABV, which allows for greater drinkability within a reasonable stretch of time. Stone Go To IPA is a very refreshing beer, loaded with intense peach, citrus and melon aromas and all the complex hop flavor that Stone IPAs are known for…meaning, it's a hop bomb.
To achieve these glorious hop qualities and still maintain a low ABV, a technique called "hop bursting" was implemented. This contemporary approach involves infusion of a massive amount of hops during the final phase of the brewing process to coax out the robust flavors and aromas of the hops. Stone Go To IPA achieved its fruity, citrus notes by dry-hopping with mostly Mosaic and Citra, plus a complimentary addition of Cascade hops.
"Hop bursting really helped us overcome the challenge of making a lower alcohol full-flavored brew that doesn't taste thin or watery," explained Stone Brewmaster Mitch Steele. "By using this method, we created an intense hop aroma and flavor along with a smoother bitterness. We're thrilled to add this to our regular lineup, especially since most of us at Stone are ready to call this our own personal 'go-to' beer."
Stone Go To IPA is brewed with nine different hop varietals and meant to be consumed fresh or within 90 days, before the bountiful hop characteristics fade. The session IPA will be available all year long, so IPA enthusiasts and curious craft beer novices alike will be able to satisfy their appetite for the almighty hop with this everyday go-to ale.Name: Stone Go To IPA
URL: www.stonebrewing.com/gotoipa
Stats: 4.5% ABV, 65 IBUs
Availability: 12-ounce bottles in six-packs, beginning March 3
Hops Bill: Mosaic, Citra, Ahtanum, Cascade, Crystal, El Dorado, Magnum, Sterling and 06300
Distribution: AK, AL, AZ, CA, CO, CT, DC, DE, FL, GA, IA, ID, IL, IN, KS, KY, LA, MA, MD, ME, MI, MN, MO, MT, NC, NE, NH, NJ, NM, NV, NY, OH, OR, PA, RI, SC, TN, TX, VA, VT and WA
About Stone Brewing Co.
Known for its bold, flavorful and largely hop-centric beers, Stone Brewing Co. has been brewing in North County San Diego since 1996. Founded by Greg Koch and Steve Wagner, Stone is the 10th largest craft brewer in the United States—a position it achieved without paid advertising, discounting or compromising standards. In addition to brewing, Stone owns two eclectic farm-to-table restaurants—Stone Brewing World Bistro & Gardens – Escondido and Stone Brewing World Bistro & Gardens – Liberty Station—and Stone Farms, an organic farm located near the brewery which grows produce for the restaurants. Stone also operates Stone Distributing Co., which distributes more than 30 craft beer brands throughout Southern California. For more information on Stone Brewing Co., please visit stonebrewing.com or the company's social media sites:Twitter, Facebook, Instagram, Google+, YouTube and The Stone Blog.