Stone Collaboration Beer To Benefit Japanese Tsunami Relief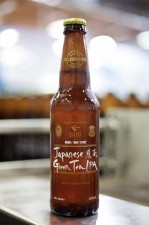 Escondido, CA – Stone Brewing Co. is proud to announce the release of its latest collaboration beer, Baird / Ishii / Stone Japanese Green Tea IPA, hitting shelves today.
Toshi Ishii – former Stone Brewing intern cum brewer ('98-'01) and now owner of Ishii Brewing Co. in Guam—got in touch with Stone Brewmaster Mitch Steele shortly after the Japanese earthquake and tsunami disaster with a proposal to make a beer that could help with recovery efforts. Bryan Baird of Baird Brewing Company in Numazu, Japan was brought on board and ideas were soon flying.
"We wanted the beer to have a Japanese spirit, so we decided early on that we would be using green tea in the recipe," explains Baird.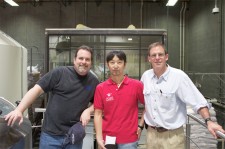 "We decided to brew an IPA to accentuate the tea's herbal character," adds Steele. "But this won't be the typical, citrusy West Coast IPA flavor. We're using Sorachi Ace, a variety of hops originally developed in Japan, as well as Pacifica, Crystal, Warrior, and Aramis, a brand new cultivar from the Alsace region of France."
All proceeds (minimum $50,000) will be donated to the Japanese Red Cross Society. "We hope that Japan and its people will bounce back from the tsunami tragedy stronger than ever!" exclaims Ishii.
"A collaboration beer like this is a great way to demonstrate to Japan that they're not alone," Baird asserts. "They have friends, supporters, and empathizers all around the world."
Baird / Ishii / Stone Japanese Green Tea IPA
Single 12-oz bottles (Suggested retail price: $2.49-$3.49) – Available in: AK AZ CA CO FL IL KY MA MN NC NJ NM NY OH OR PA SC TX VA VT WA
9.2% abv, 70 IBUs
2966 cases produced
Tasting Notes from Brewmaster Mitch Steele
"Bryan, Toshi, and I tried to select hop varieties for this beer that would blend well with Japanese Sencha Green Tea, and I think we succeeded. Heavy doses of Crystal hops, accompanied by New Zealand Pacifica and the brand new Aramis variety from France provide a wonderful, spicy, herbal hop character that blends exceptionally well with the herbal and grassy Sencha tea flavors. The very late addition of Japanese Sorachi Ace hops provide even more spicy and citrus hop notes. Our Production Team at Stone Brewing Co. is absolutely raving about how fantastic this beer came out. Drink it fresh!"