Stone Brewing Releases Two Variations of Stone Smoked Porter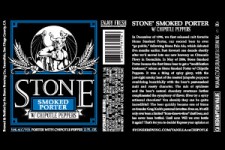 (Escondido, CA | June 18, 2012) — There comes a time in every beer's life when it wants to branch out. Try something new. Be adventurous. And while the beloved Stone Smoked Porter—first released in December 1996—has certainly gotten some special treatment over the years, the resulting variations have only been available on a very limited basis on tap or as a rare growler fill. Until now.
A limited number of 12 oz. bottles of Stone Smoked Porter w/ Vanilla Bean and Stone Smoked Porter w/ Chipotle Peppers are making their way to select markets beginning on June 18.
"Stone Smoked Porter is one of the unsung champions of our lineup," asserts Greg Koch, CEO & Co-Founder of Stone Brewing Co. "It vies for the title of "most food-friendly" of our beers, and the breadth of its ability becomes even more evident in these two delicious variants."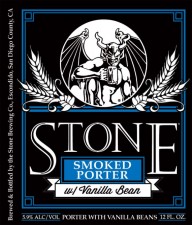 Stone Smoked Porter w/ Vanilla Bean was first brewed in late 2006 as the brainchild of Stone Brewing Co.'s Small Batch Brewer, Laura Ulrich. Inspired by having Stone Smoked Porter poured over a scoop of vanilla ice cream, she had a stroke of brilliance and history was made.
Stone Smoked Porter w/ Chipotle Peppers was conceived in May 2006 as an idea from Merchandise Manager Chris Carroll, who proposed making a spicy one-off beer as a special Cinco de Mayo growler fill. Originally dubbed "South of the Border Stone Smoked Porter," the resulting beer was an incredible interplay of roast, smoke, and a touch of heat, and has remained a popular, albeit rare, treat ever since.
"For now, these are one-time bottlings," continues Koch, "but we reserve the right to change our mind about that at any time." Fans are invited to share their thoughts on each version at http://www.stonebrewing.com/VanillaOrChipotle
Stone Smoked Porter w/ Vanilla Bean
Stone Smoked Porter w/ Chipotle Peppers
Stats: 5.9% abv, 53 IBUs
Availability: Limited 12oz bottles. One-time release, beginning June 18th
Malt bill: Pale Malt, Crystal 75, Chocolate Malt, Peat-Smoked Malt
Hops bill: Columbus & Mt. Hood
Distribution: AZ, CA, CO, FL, IL, MA, NC, NM, NY, OH, OR, PA, SC, TX, VA, VT, WA
Blog Post: http://blog.stonebrew.com/index.php/stone-smoked-porter-now-in-vanilla-and-chipotle
Suggested pairings, provided by "Dr." Bill Sysak
Stone Smoked Porter w/ Vanilla Bean 
Appetizers: Coconut shrimp, candied nuts
Main Course: Butternut squash soup, New England clam chowder, pumpkin ravioli, seared scallops
Dessert: Maple-glazed donuts, chocolate chip cookies, cream puffs
Cheeses: Aged Gouda, Mimolette, Beehive Cheese Co.'s "Barely Buzzed"
Cigars: Paradigm 262, Gurkha Evil, Alonso Menendez. Almost any cigar with a Brazilian wrapper will impart nice chocolate notes perfect for this beer.
Stone Smoked Porter w/ Chipotle Peppers 
Appetizers: Stuffed mushrooms, bacon-wrapped jalapeño poppers, quesadillas
Main Course: Manhattan clam chowder, French onion soup, baby back ribs, blackened fish, mole negro
Desserts: Tiramisu, apple pie, coffee cake, flourless chocolate cake, cinnamon rolls
Cheeses: Parmigiano-Reggiano, aged Cheddar, Ossau-Iraty, Mahón
Cigars: Ashton Classic, Montecristo, CAO Brazilia
ABOUT STONE BREWING CO.
Stone Brewing Co. was founded in 1996 by Steve Wagner and Greg Koch in North County San Diego, CA. It is the 11th largest craft brewery in the United States and has been named "All-Time Top Brewery on Planet Earth" by BeerAdvocate magazine – TWICE! A recently announced $50M+ expansion plan (that includes a hotel among other lofty ventures) is underway, as are developments to become the first American craft brewery to open a brewhouse in Europe. Visit stonebrew.com for more information.