Stone Brewing – New Beers Soon?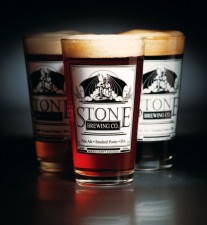 Info on Stone Brewing's upcoming projects and beers can be obtained either easily (their blog and website) or you might have to find out the hard way, by either talking to some locals, or scour the World Wide Web for clues. Either way, here is some info any Stone Brewing fan would be interested to know. As soon as we get more info on the whens and where, we will pass it along to you.
New Beers Piloted Last Month in San Diego (March 26, 2009) (Editor's Note – TFP has not tried these beers)

Stone Imperial Red Ale
One of my personal favorite styles. Something along the lines of sweeter, less tongue curling version of Arrogant Bastard Ale. Alesmith has done a wonderful job with Winter Yulesmith, and other brewers such as Lagunitas and Rogue have a similar brew.
Stone Imperial Porter
A large, smooth, fruity thick porter. With most brews that carry the term Imperial, this brew is between 7-9% abv.
Stone Peated Scotch Ale
Sometimes I think hops come out of the faucet at Stone Brewing. From the sounds of this brew, we are in store for a nice complex, earthy, peaty, malty Scottish Style Ale. Should weigh in between 7-9% abv. as well.
Stone Everything But The Kitchen Sink Stout
A smoked, thick malty beer.  I anticipate clever marketing to go along with a beer touting this suggestive name.
Stone Unfiltered Cali-Belgique IPA (Cali-België)
In most cases, I enjoy unfiltered versions of great beer.  Not being a fan of this beer, I am interested in hopefully revisiting this beer in a cloudy chunky form.
Stone Bombastic Lager
Described as a Dark Lager. No fizzy yellow stuff baby.  I don't doubt that the folks that big bold ales could make a big bold lager as well. Another beer hovering the 7-9% abv. territory.

Collaboration REDUX at Jolly Pumpkin! (From blog.stonebrew.com)
"The brew is a repeat of the Jolly Pumpkin / Nøgne-ø / Stone Special Holiday Ale, but it will be fermented 'Jolly Pumpkin' style, meaning Brettanomyces and barrels. The idea is to use the exact same recipe in the brewhouse, but I know Ron ferments everything in barrels, and he's got a lot of funk in his barrels, so the beer's gonna go through this nice funkification process."
Although the recipe will be exactly the same (we're even sending some of the ingredients over to Ron for consistency), we're excited to see how the brew will fare after the prolonged "funkification" process and extended barrel aging. Having had Ron's beers, Mitch expects the beer to be "softer, a little funky, and a little tarter than our version."