Stone Brewing Cans Enjoy By Unfiltered IPA 07.04.17
(ESCONDIDO, CA) – For the first time ever, a Stone Enjoy By IPA will be available in cans with the latest release: Stone Enjoy By 07.04.17 Unfiltered IPA. Defiantly independent, this unfiltered, unabashed and devastatingly fresh IPA will inspire compatriotism among hop heads everywhere. With the pull of a tab, you 'll hear the rallying cry: "Stone Wants You to Enjoy Fresh Beer!" Perfectly timed for hop fanatics seeking the freedom to explore the great outdoors, cans offer an easy and convenient option to enjoy the freshest Stone beers possible.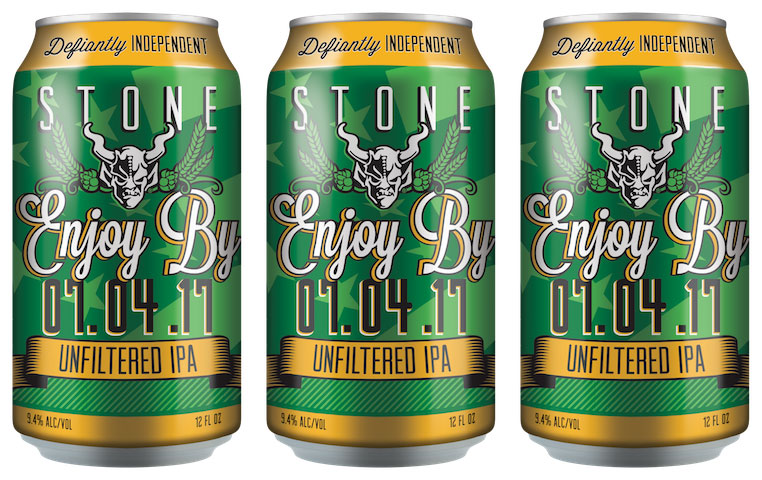 By keeping it unfiltered, this freedom-loving double IPA has wonderfully intense peach and tropical fruit hop aromas. As with its fellow comrades of the Stone Enjoy By IPA series, this beer is brewed specifically not to last.
"We're fired up about our Stone Enjoy By IPA featured in cans for the first time. I know around the brewery we are all so very pumped to take Stone Enjoy By IPA a little more off-road. We can venture out into some of our favorite hard-to-reach places – surf spots, hikes – and create some new, rare moments where we can pause to savor the scene along with our freshest, unfiltered, danky hop soup," says Dominic Engels, CEO. "Whether it's cans or bottles, Stone Enjoy By IPA is extra special for wherever and whenever and now we can go even further."
STONE ENJOY BY 07.04.17 UNFILTERED IPA
QUICK FACTS
Name: Stone Enjoy By 07.04.17 Unfiltered IPA
Web: StoneBrewing.com/EnjoyBy
Stats: 9.4 % ABV, 90 IBUs
Availability: Nationwide, limited release in 12-ounce can in six-packs, 22-ounce bottles and draft
Hops Varieties: Nugget, Super Galena, Simcoe, Delta, Target, Amarillo, Cascade, Galaxy, Citra, Nelson, Sauvin, Motueka and Helga
About Stone Brewing
Founded by Greg Koch and Steve Wagner in 1996, the groundbreaking San Diego-based Stone Brewing is the 9th largest craft brewer in the United States. Recognized as an industry leader, Stone has been listed on the Inc. 500 | 5000 Fastest Growing Private Companies list 12 times, has been called the "All-time Top Brewery on Planet Earth" by BeerAdvocate magazine twice, and was named the "Top Rated Brewer in California" by RateBeer Best in January 2017 (weirdly, RateBeer was recently revealed to be partially owned by AB InBev no less). The multifaceted company is the first American craft brewer to independently build, own and operate their own brewery in Europe (Berlin, Germany), and also opened a production brewery in Richmond, Virginia in 2016. Known for its bold, flavorful and largely hop-centric beers, Stone has earned a reputation for brewing outstanding, unique beers while maintaining an unwavering commitment to sustainability, business ethics, philanthropy and the art of brewing…and pledging never, ever, sell out to the man.  For more information on Stone Brewing,  please visit stonebrewing.com or the company's social media sites: Facebook, Instagram, Pinterest, Twitter and The Stone Blog.