Stone Brewing Begins Shipping Tangerine Express IPA
(ESCONDIDO, CA)  – Today, Stone Brewing announces the newest addition to its lineup of year-round offerings, Stone Tangerine Express IPA. Packed with whole tangerine and pineapple, this is Stone and this IPA is big, bold and not for kids. Stone Tangerine Express IPA will debut in bars, restaurants and stores where Stone beers are sold beginning this week.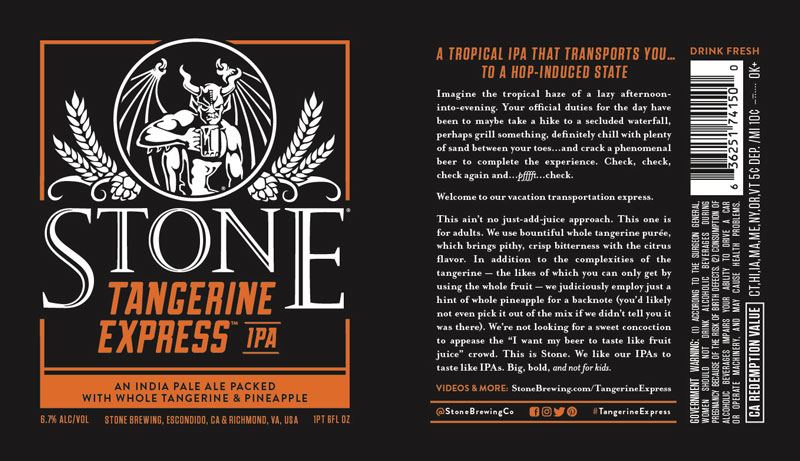 From time to time Stone is able produce small batches of beer for special events. In this case Steve Gonzalez, Stone's Senior Manager of Small Batch Brewing & Innovation, worked with Jake Karley, Director of Beverages & Special Projects, P.J. Whelihan's Pub & Restaurant in the Philadelphia/South New Jersey area to come up with this original beer for the 2016 Craft Brewers Conference in Philadelphia.
"Together they landed on a beer that is really hoppy but at the same time has incredible fruit flavor, which was achieved by using high-quality, whole fruit," said Jeremy Moynier, Senior Innovation Brewing Manager. "When I tasted it with our co-founder, Greg Koch, and other members of our leadership and sales team, we loved it so much so that we went back to San Diego to hatch the plan for a future nationwide release. Greg was particularly adamant that this beer should be in our year-round lineup and personally championed it through the process. I love that it's a great hoppy beer but has just the right amount of fresh fruit with a complex, pithy quality to balance it out."
Stone Tangerine Express IPA pours light golden in color with an aroma that's bright, juicy and tropical. Stone's brewers used whole tangerine puree to capture the essence of the bright flavors of the fruit with the addition of whole pineapple for a subtle, yet lingering backnote. Neither the hops nor the fruit dominate, yet together they create several complex fruit layers, which can only be achieved by brewing with the entire fruit. Eight different hops give this beer its marked dankness overtones and refreshing bitterness. It's an express ticket to a beach hammock getaway with refreshing drink in hand, complete with real fruit character and Stone's signature bold hop bitterness.
Stone Tangerine Express IPA will be available in 22oz bottles beginning the week of January 30, 2017 with national distribution alongside Stone's core lineup of beers including Stone IPA, Stone Delicious IPA, Stone Ruination Double IPA 2.0, and the newest hit, Stone Ripper San Diego Pale Ale.
QUICK FACTS
Name: Stone Tangerine Express IPA
Web: stonebrewing.com/tangerineexpress
Stats: 6.7% ABV, 75 IBUs
Availability: 22oz bottles beginning January 30
Hop Varieties: Chinook, Magnum, Centennial, Citra, Sterling, Mosaic, Azzaca, Simcoe
Distribution: National
Find Beer: find.stonebrewing.com
About Stone Brewing
Founded by Greg Koch and Steve Wagner in 1996, the groundbreaking San Diego-based Stone Brewing is the 10th largest craft brewer in the United States. Recognized as an industry leader, Stone has been listed on the Inc. 500 | 5000 Fastest Growing Private Companies list 12 times, has been called the "All-time Top Brewery on Planet Earth" by BeerAdvocate magazine twice, and was named the "Top Rated Brewer in California" by RateBeer Best in January 2017. The multifaceted company is the first American craft brewer to independently build, own and operate their own brewery in Europe (Berlin, Germany), and also opened a production brewery in Richmond, Virginia in 2016. Known for its bold, flavorful and largely hop-centric beers, Stone has earned a reputation for brewing outstanding, unique beers while maintaining an unwavering commitment to sustainability, business ethics, philanthropy and the art of brewing…and . For more information on Stone Brewing, please visit stonebrewing.com or the company's social media sites: Facebook, Instagram, Pinterest, Twitter and The Stone Blog.