Squatters Craft Beers Releases Sociable Krystalweizen
(Salt Lake City,UT)– Squatters Craft Beers releases Sociable, a refreshing four percent ABV Krystalweizen. Krystalweizens are named for their crystal clear appearance, a clean easy-drinking beer for the summer months.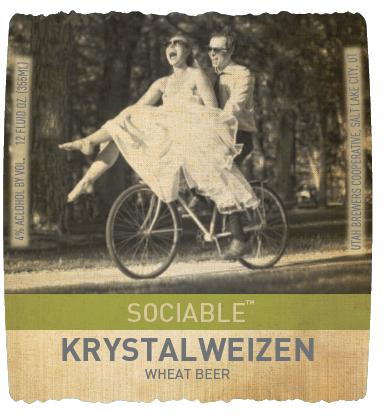 A German Krystalweizen is a "crystal wheat" beer, meaning it is a filtered, brilliantly bright weizen ale. "While Hefeweizens are a popular style, not everyone appreciates the cloudy appearance of a Hefeweizen nor the flavors of the yeast still present in the beer", explains head brewer Jon Lee, "that's how filtered Krystalweizens came about."
Sociable is light bodied yet lively on the tongue, with unique banana and clove aromas from the brewers selection of Bavarian yeast, and a subtle tart flavor from the wheat.
"If you enjoy Hefeweizens, you will love a Krystalweizen," expresses Jon, "it has become a staple in my beer fridge at home, quickly becoming one of my favorite beers we make. Very easy to serve at casual gatherings, it's a crowd pleaser."
Traditionally brewed for large events in the most popular wedding months of summer, Krystalweizens are refreshing, great for a sunny day and pairs well with almost any menu. "This pale straw colored beer is bright and looks very appealing in a glass", states Jon, "I'm really excited to have this next to the barbeque with me this summer."
Historically, a special batch of Krystalweizen was brewed for wedding celebrations; couples participated in adding the hops into the kettle, bringing them good luck. Our Sociable sweethearts were photographed in Liberty Park in Salt Lake City by local photographer Michael Brown of Sweetgrass Productions. Craft beer and #summerlovin, start the honeymoon now.
###
About Squatters Craft Beers
Jeff Polychronis and Peter Cole founded Squatters Pub Brewery Salt Lake's original craft brewpub in 1989. The company currently operates five brewpubs and a wine and ale house. In 2000, Squatters Craft Beers and Wasatch Brewery merged their brewery operations for draft and bottle production. To date, Squatters and Wasatch have brought home 17 World Beer Cup Awards and 30 Great American Beer Festival Medals. In 2010, they received the prestigious U.S. Mid-size Brewery of the Year award from the Brewers Association.
Squatters and Wasatch bottled and draft beers are available in Utah, Nevada, Arizona, New Mexico, Colorado, Texas, Louisiana, Minnesota, Iowa, Wisconsin, South Dakota, North Dakota, Nebraska, Rhode Island and Massachusetts. For more information, please visit www.squatters.com and www.wasatchbeers.com.