Sprecher Wins 8 Medals at U.S. Open Beer Championships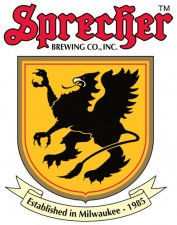 Glendale, WI – Cheers to Sprecher! Following closely on the heels of winning 8 medals at the 2010 Los Angeles International Beer Competition, Sprecher Brewing Company won 8 medals at the US Open Beer Championships and the distinction of being the 2nd best brewery in a tough competition. "This competition is significant because it accepts entries from breweries around the world and allows national winning homebrewers to compete, "said Dow Scoggins, director of the U.S. Open Beer Championships. More than 700 beers were submitted in 50 different categories from 20 international breweries and award-winning homebrewers.
Sprecher Gold Medal Beers
Black Bavarian, Schwarzbier
Dunkle Weiss, German Wheat
Sprecher Silver Medal Beers
Dopple Bock, Dopple/Strong Bock
Generation Porter, Chocolate/Cocoa
Mai Bock, Bock
Pipers Scotch Ale, Strong Scottish Ales
Winter Brew, Muchner Dunkel/Dark
Sprecher Bronze Medal Beers
Top Three Breweries
Maui Brewing Company (2 gold, 5 silver, 2 bronze)
Sprecher Brewing Company (2 gold, 5 silver, 1 bronze)
Deschutes Brewing Company (2 gold, 4 silver)
Established in 1985, Sprecher Brewing Company is Milwaukee's first microbrewery since Prohibition. Tours and tastings are offered throughout the week. Visit www.sprecherbrewery.com for details about award-winning Sprecher beers, gourmet sodas, tours and special events.