Southern Tier Brewing Brews One Buffalo for Pegula Sports and Entertainment
(LAKEWOOD, N.Y.) – Today, Southern Tier Brewing Company (STBC) will announce a new partnership with Pegula Sports and Entertainment (PSE) with the launch of a new beer, One Buffalo. The announcement and inaugural keg tapping will be held at (716) Food and Sport in downtown Buffalo this afternoon. Bills and Sabres President Russ Brandon will tap the first keg. The new beer will also be available at Ralph Wilson Stadium beginning with tonight's Buffalo Bills preseason game against the Carolina Panthers. On August 31st, One Buffalo will be available in kegs throughout Western New York and six-pack bottles will follow in September.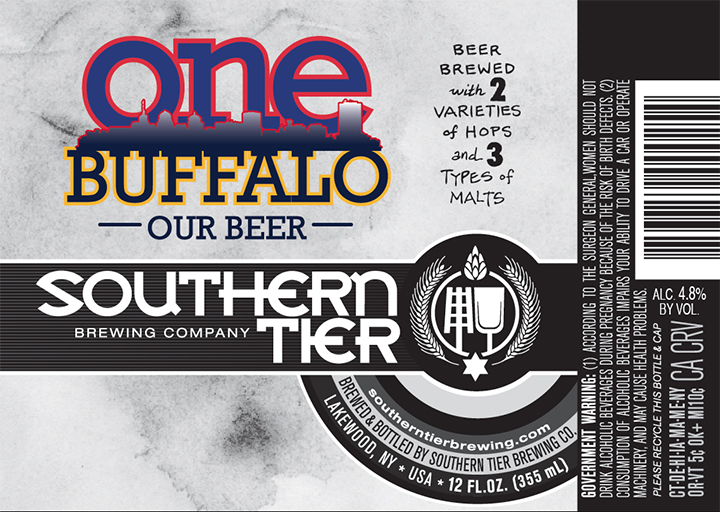 "It's always exciting to launch new beer." said Phin DeMink, founder of STBC. "We collaborated with PSE to develop an exceptional craft beer. It's designed to appeal to all types of beer drinkers, in particular Buffalonians. I'm extremely proud of this product and proud to make Buffalo its home. It's our beer, it's what we drink around here."
One Buffalo is a combination of North American hops, malted barley, oats and wheat. It is described as a smooth, refreshing craft beer, brewed to be 4.8% alcohol/volume.
"Since launching our One Buffalo initiative, it has been our goal to connect the community and have the city we love come together as one," said PSE EVP of Marketing and Brand Strategy Brent Rossi. "We're very excited to celebrate the passion of our area through One Buffalo, Our Beer. We look forward to seeing the community express their Buffalo pride with this beer."
"At Southern Tier we are always striving to make the highest quality beer and offer innovative new products," said John Coleman, CEO of STBC. "Western New York has become a sophisticated beer market, and One Buffalo is a great fit for all beer drinkers. We are especially proud to be able to brew this beer with PSE as our partner."
Theartwork on the packaging was painted by Buffalo based artist Matthew SaGurney. Each panel on the six-pack has a different Buffalo-centric design.
###
ABOUT SOUTHERN TIER BREWING COMPANY
Southern Tier Brewing Company is committed to providing delicious, accessible and unique products. In doing so, we aim to change the way people drink beer. Our mission is to provide our customers with consistently fresh, clean, American craft ales and lagers that stand on their own merit. www.stbcbeer.com, @stbcbeer
ABOUT PEGULA SPORTS AND ENTERTAINMENT
Pegula Sports and Entertainment is a management company that streamlines key business areas across all Pegula family owned sports and entertainment properties, including the Buffalo Bills, Buffalo Sabres, Buffalo Bandits, Rochester Americans, and Black River Entertainment.
On October 12, 2014, PSE President and CEO Kim Pegula announced the launch of the One Buffalo initiative. The campaign serves as a representation of teamwork, and a deeper connection between Buffalo sports teams, fans and the community.