South Bay Drugs Update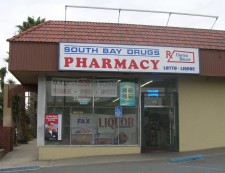 A message from Joey of South Bay Drugs. A family owned and operated, independent pharmacy and beer store in San Diego, CA.  Call Joey for availability, and special orders at 619-424-5559.
Of important note: they ship this awesome selection of beer.
These are just some noteworthy items, I have over 200 different bottles in stock.
IN STOCK RIGHT NOW:
Stone 12th Anniversary Bitter Chocolate Oatmeal Stout
Port 2nd Anniversary Ale (second batch)
Coronado Idiot IPA (last time it'll be brewed till after the hop shortage, best batch yet)
Het Anker Gouden Carolus Hopsinjoor
The Bruery Levud's Batch 1
COMING SOON:
Lost Abbey Ne Goeien Saison
Lost Abbey 10 Commandments
Lost Abbey Witch's Wit
Russian River Blind Pig (second wave)
Russian River Pliny the Elder
The Bruery Barrel-Aged Levud's Batch 1
Stone Vertical Epic 08-08-08 (this Monday)