Smokin' The Competition – Homebrewer Wins Big with His Rauchbier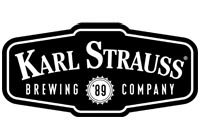 San Diego, CA – August 8, 2008
Homebrewer Matt Morrison probably never thought he'd get to serve one of his homebrews to thousands of people across Southern California-but that's exactly what he's doing.
Through the month of August, those thirsting for a taste of an award-winning Rauchbier can find it on tap at all six Karl Strauss Brewery Restaurant locations.
Morrison was the winner of the inaugural Karl Strauss Homebrew Competition held last October at the company's Karlfest event. Last month, Matt Morrison returned to the Karl Strauss brewery and brewed his winning recipe with our brewers.
His winning Rauchbier recipe beat out several entries and scored Morrison the chance to work with Karl Strauss brewers to recreate his original 5-gallon recipe on a commercial scale to be sold in all six Brewery Restaurant locations. A panel of Karl Strauss Brewers selected the lightly smoked and balanced Rauchbier as the winner because they were impressed by Morrison's ability to deliver such an interesting style without going overly smoky, as many rauchbiers tend to be.
In addition to brewing a 40-barrel batch of his beer, Morrison's Rauchbier will be co-entered this fall into the Great American Beer Festival's Pro-Am-a competition designed to be a collaboration between professional brewers and home brewers.