Smog City Brewing and Food Forward Kumquat Saison Returns This Friday
(Torrance, CA) For the 7th year in a row, Smog City Brewing Co. and Food Forward are releasing their award-winning Kumquat Saison, on Friday, July 1 to raise funds for Food Forwards' efforts to end food insecurity and to help increase awareness of Food Forwards' mission around Southern Southern California, neighboring states and tribal lands.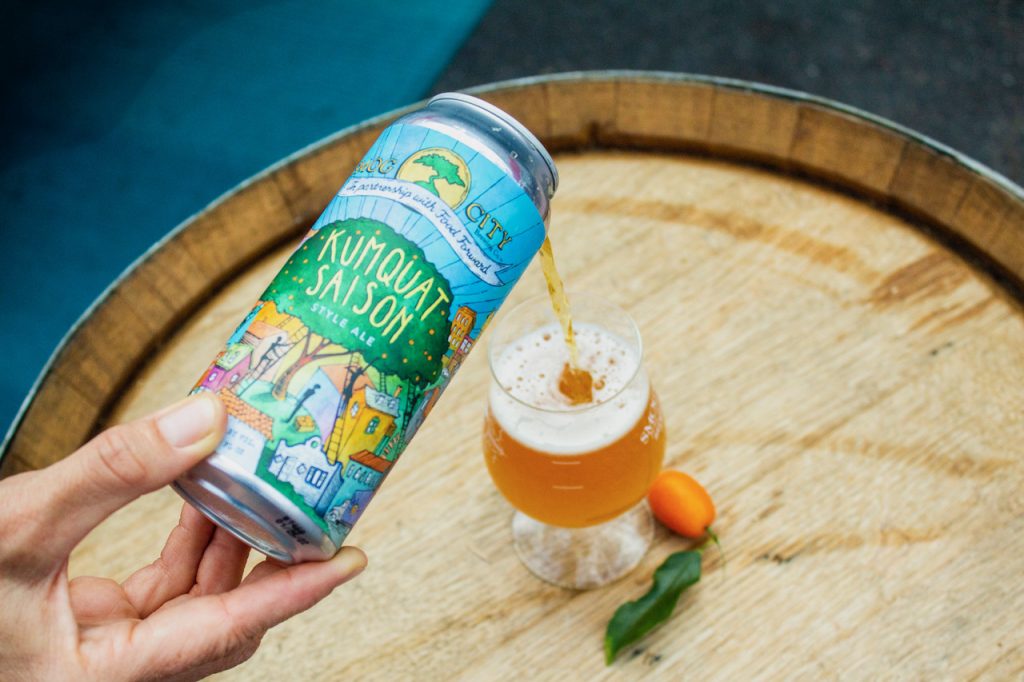 Part of Smog City's 1% for the Planet Community Impact series of beers, each batch of Kumquat Saison is made using over 500 pounds of kumquats hand-harvested from fruit trees in Los Angeles County backyards that would otherwise go to waste. The resulting effort is a refreshing and fruity 6% ABV beer with notes of bright citrus
and white pepper. "We are so grateful to Smog City for their ongoing support of Food Forward's work and for sharing the abundance while expanding Food Forward's mission of keeping surplus produce from going to waste," said Rick Nahmais, CEO and Founder of Food Forward.
Since 2015, Food Forward volunteers and Smog City staff have hand-harvested over 6,000 pounds of backyard kumquats for Smog City Brewing Co., and everyone is excited to see the beer back for a 7th year. "Kumquat Saison is the result of a very meaningful partnership between Smog City and Food Forward. We're able to help prevent food waste by taking unwanted fruit and turning it into a delicious beer while helping spread the word about the important work Food Forward is doing," said Laurie Porter, co-owner of Smog City Brewing Co.
Kumquat Saison will be available in 4-pack cans and on draft starting Friday, July 1 at all four of the Smog City Brewing Co. taprooms, as well as online for delivery and shipping to anywhere in the state of California and at select retailers around SoCal. A portion of the proceeds from each 4-pack of Kumquat Saison will be donated to Food Forward as part of Smog City's 1% for the Planet Community Impact Series.
About Smog City Brewing Co. smogcitybrewing.com
Smog City Brewing Co. is a family-owned and operated craft brewery in Torrance, CA devoted to producing a wide variety of creatively inspired and exceptionally balanced beers. They pride themselves on making beer everyone will love and love to share and have four taprooms to choose from around Los Angeles County and distribution throughout central and southern California. Smog City Brewing Co. is also a proud 1% for the Planet member. Visit smogcitybrewing.com or contact [email protected].
About Food Forward: foodforward.org
Food Forward fights hunger and prevents food waste by rescuing fresh surplus produce, connecting this abundance with people experiencing food insecurity, and inspiring others to do the same. For more details about Food Forward's health equity, environmental impact, and the communities served, visit foodforward.org or contact [email protected]