Smashburger Celebrates National Burger Day With Craft Beer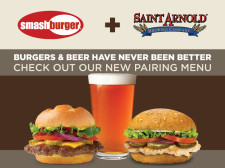 Denver, CO – Smashburger, the national better burger restaurant known for its fresh, smashed to order burgers, is sharing its exclusive pairing secrets for burger and beer lovers across the nation in celebration of National Burger Day tomorrow, Wednesday, May 28. Smashburger Founder and Chief Concept Officer, Tom Ryan, recently teamed up with Chris Spradley, MasterChef finalist, Craft Beer Consultant and Host of the new food and travel reality show, 'Destination Beer,' to create exclusive pairing tips that honor the almighty burger.
"Smashburger is a restaurant concept at the forefront of the burger and craft beer trend, and has created an innovative menu that marries two of America's favorite pastimes together," said Chris Spradley, Craft Beer Consultant and Host of the new food and travel reality show, 'Destination Beer.' "It was an honor and a pleasure to collaborate with Tom Ryan on this unique list of tips for consumers, so that they can have fun concocting their own burger and craft beer pairings at home."
Tom Ryan and Chris Spradley offer the following pairing tips to help burger and beer lovers create the perfect match up for any meal:
Spicy Flavors: Pilsners and Helles style lagers will cool the heat, while Hoppy IPAs pair well with spicy flavors to accentuate the heat
Savory Flavors: Porters, Schwarzbiers, nutty brown ales and Amber beers complement mushrooms and some aged cheeses, like Swiss and Gouda
Rich Flavors: American Wheat and Belgian golden ales, or Hoppy American pale ales and IPAs, cut the richness of avocados, creamy dressings and goat cheese
Crisp, Fresh Flavors: Clean lagers like Kolsch or American Blonde ales pair well with cucumbers, lettuce and tomato
Acidic Flavors: Spicy Saisons, Witbiers, English style pale ales and American wheat beers work well with pickles, vinaigrettes, citrus and mustards
Smokey Flavors: A Porter or Doppleblock pairs nicely with smoky bacon or other cured meats. In contrast, a sharp IPA will cut the sweetness of maple bacon
In 2012, Smashburger launched its exclusive burger and craft beer pairing menu with New Belgium Brewing, a program that was inspired by the popular local craft beer culture in its home state of Colorado. Today, the company has expanded that program into13 select markets across the country to capitalize on national consumer demand for locally brewed craft beers, as well as Americans' love affair with burgers. Those markets include Denver with New Belgium, Brooklyn/Long Island with Sixpoint, Miami with Holy Mackerel, Minneapolis with Summit, Houston with Saint Arnold, Dallas with Deep Ellum, Phoenix with Four Peaks, Cincinnati with Christian Moerlein, Chicago with Goose Island, Dayton with Great Lakes, Las Vegas with Joseph James, San Diego with Stone Brewing and Austin with Real Ale Brewery.
"We believe that people come to Smashburger looking for an occasion to celebrate, relax and enjoy quality food with friends and family," said Tom Ryan, Founder and Chief Concept Officer of Smashburger. "Our restaurants are a place where food is made with fresh, quality ingredients the way our consumers like it, so serving local craft beers to accompany this offering was a natural fit. Our burger and beer pairing program is a one of a kind experience in the fast casual industry, and we are proud of this initiative we have created."
On National Burger Day, Smashburger will also be celebrating by hosting 20 different Yelp Elite events across the country for 35 guests to sample a private menu and learn how to pair your beer with their burger.
Smashburger has 268 restaurant locations around the globe and is more than just burgers. Guests can also enjoy a selection of tender marinated grilled chicken sandwiches and fresh-prepared and tossed signature salads, along with a variety of irresistible sides including rosemary and garlic–seasoned Smashfries, Haystack Onions, and Veggie Frites (flash-fried and seasoned carrot sticks and green beans). The restaurant also serves a selection of beverages ranging from handspun Häagen-Dazs shakes to a variety of certified organic freshly brewed and bottled HONEST® Tea beverages and local craft beer.
Fans are encouraged to join Smashburger's Smash Club to receive the latest news, tastiest promotions and exclusive coupons. For more information on Smashburger, please visit www.smashburger.com or check us out on Facebook and Twitter.
About Smashburger
Smashburger is a leading fast casual "better burger" restaurant with more than 268 corporate and franchise restaurants operating in 30 states and in four international countries. The company began in 2007 with the vision of Rick Schaden and funding by Consumer Capital Partners—the private equity firm that he and his father Richard own. By offering fresh, premium "smashed to order" burgers, chicken sandwiches, salads, signature side items and hand-spun Häagen-Dazs shakes, Smashburger has modernized the way people think about burgers. Known for localizing its menu in every market with regionally inspired burgers, side items and local craft beers, Smashburger has received numerous awards, including ranking #2 on Franchise Times "2014 Fast & Serious" list of smartest-growing brands, being named "America's Most Promising Company" by Forbes Magazine in 2011 and to the Top 10 in 2014, topping Fast Casual's "Top Mover & Shakers" list for 2014 and 2012, and being featured on the Inc. 500 List of "America's Fastest Growing Companies."  Smashburger also regularly receives "Best Burger" awards in cities around the world. To learn more, visit www.smashburger.com.
About Consumer Capital Partners
Consumer Capital Partners is an innovative investment and operating company, focused on starting up, operating and investing in consumer, franchising and lifestyle brands. Consumer Capital Partners also engages in modern channels of giving across a broad spectrum of contemporary causes. To learn more about CCP, please visit www.consumercp.com.