Smartmouth Brewing Reveals Can Design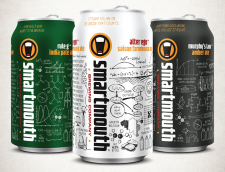 Norfolk, VA – Coming soon, Smartmouth's three flagship beers (Alter Ego Saison, Rule G IPA and Murphy's Law Amber Ale) will be available in crafty 12-ounce cans. These lightweight, fully recyclable, portable mini-kegs will never shatter, never skunk and never chip a tooth. Until now, our beer has been available by draft only in bars, restaurants and the popular Smartmouth tasting room. Fans will be able to grab a six-pack from local grocery and convenience stores and spend some quality time with Smartmouth's newest family members.
The Smartmouth team worked with The Meridian Group of Virginia Beach to design eye-catching, captivating cans that mimic the blackboard walls in the Smartmouth Tasting Room. The doodles and formulas are derived from the brewing process or bits and pieces of our history that make us uniquely Smartmouth. Smartmouth will be posting the key (attached to this press release) that reveals the descriptions for those who are curious. Drink and learn.
Smartmouth is committed to serving great beer and cans provide better packaging than bottles. There are two primary enemies of finished beer – oxygen and light. The double-crimped seal on a can is better at preventing air from getting to the beer than bottle caps and no light can penetrate the aluminum. Cans are infinitely recyclable which makes them more environmentally friendly than bottles. Each can weighs less than a bottle by approximately 6oz and takes up less space, which means it is takes less energy to ship a pallet or carry a six pack home or stack them in your fridge. Cans also cool faster than bottles so you can enjoy them faster. Last, cans go where bottles can't – including swimming pools, boats and the beach. As far as taste, cans today are lined with a water-based polymer lining that eliminates any metallic contamination or flavors. (Facts gathered from craftcans.com.)
Smartmouth has purchased a canning line from Wild Goose Canning that will package approximately 24 12oz cans a minute. The canning line will be installed in the coming weeks. Smartmouth has been working hard to ensure availability of these cans across our market before the heat hits. Ask your favorite beer retailer if they will be carrying our cans. Stay tuned for the upcoming release date!
Special Can Events
Saturday, May 10, 12noon-7pm, "Celebrate Cans" Street Party at Smartmouth. 4 Food Trucks, 2 Beer Trucks, Live Music by Esoteric Ramblers & Derek Smith and The Family Tree, and more!
Saturday & Sunday May 17 & 18 – Stockley Gardens Art along the Hague – look for the Smartmouth Can Sculpture by local artist Asa Jackson.
About Smartmouth:
Founded in 2012, Smartmouth Brewing Co. is dedicated to producing and perfecting authentic craft beer. Epiphany and barley were not-so-secret ingredients that led president Porter Hardy, who was a practicing attorney, to take Smartmouth from homebrew experimentation to one of the Southeast's most promising startup breweries. After years of bottled up dreaming finally came to a head, Porter traded his briefcase and corner office for pint glasses and tap handles. Now, with help from seasoned head brewer, Greg Papp, and a collection of like-minded investors and friends, Smartmouth is quickly being recognized with prestigious state and national awards for its quality beer.
In its first year and a half, Smartmouth has released 18 unique styles of beer. The three flagship styles include Alter Ego Saison, Murphy's Law Amber Ale and Rule G IPA. They are always on tap, along with the award-winning Notch 9 Double IPA and 2 rotations seasonals, Cowcatcher Milk Stout and a hefeweizen. The other 12 styles entail experiments intended to inspire the creativity of the brewing team and delight the palates of local craft mavens. The Smartmouth Tasting Room currently has 8 different styles on tap. All beer styles are detailed on the Smartmouth Website, www.smartmouthbrewing.com/beers. Smartmouth takes great pride in its product and in the exceptional team that creates and sells it.
www.smartmouthbrewing.com – @smartmouthbeer – facebook