Ska Brewing Expands Brewhouse, Launches Pink Vapor Stew
(DURANGO, CO) –Ska has added five new fermenters, a second kettle to the brew house, and a de-aerated water system to give them a 20% increase in brewing capacity at the Durango, Colorado-based world headquarters. The new additions will also enable Ska to expand offerings from their Mod Project brewery, the birthplace and mecca of its award-winning small batch beer creations, previously only available to craft beer lovers at Ska's World Headquarters.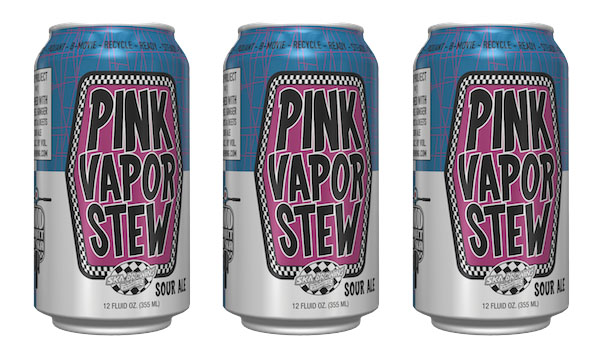 Ska has brewed more than 25 different experimental beers as part of the Mod Project in the past year. Many of Ska's Mod beers are made with fresh fruit from Colorado's Western Slope. These beers range from an oak-aged strong plum ale to Palisade peach gose and sour apple ale. The Mod Project brewery is a smaller, innovative brewery that sits square in the middle of Ska's warehouse and was purpose-built to allow Ska's brewers to experiment with various progressive brewing techniques. The new expansion allows Ska to produce new styles of Mod beers in larger quantities and release some of these creations to a wider audience in cans.
Thanks to the expansion, Ska is now offering Pink Vapor Stew, the Mod Project's firstborn creation, in 12-oz cans. Pink Vapor Stew Sour Ale, made with Citra and Galaxy hops, is a tropical medley of citrus and sour flavors blended together with earthy beets, carrots and ginger. Ska will also be delivering a Tart Mexican Logger this summer; a slightly sour rendition of their wildly popular Mexican Logger.
With the increase in capacity comes a new Mixed-Up 12-pack, now featuring 2015 and 2016 Great American Beer Fest medal winner, Mexican Logger, as well as Ska flagship, Modus Mandarina.
Finally, insiders at Ska have leaked information that they will be unveiling a fully redesigned beer garden this spring. The outdoor facility at Ska World HQ will be complete with a stone patio, additional seating, and most importantly, an outdoor bar.
About Ska Brewing
Based in Durango, Colorado, Ska Brewing was founded in 1995 and produces over a dozen award-winning beers. Pioneers in the canned craft beer movement, Ska Brewing is known for an array of styles in 12 oz cans including Modus Hoperandi, Mexican Logger, Euphoria and Pinstripe. For information (a lot of it), music, and a good time, visit www.skabrewing.com. Plug in to the latest updates, beer releases and shenanigans at facebook.com/skabrew and twitter.com/skabrewing.