Silver City Brewery Announces New Seasonal: Winter Bock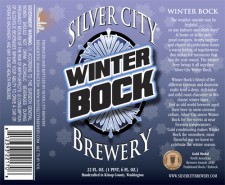 Bremerton, WA – October 3, 2011 — Silver City Brewery, the Kitsap Peninsula, Washington's premier award winning brewery today announced the release of Winter Bock as their new Winter Seasonal. Winter Bock will be available at the Silver City Restaurant on draft and in 22oz bottles. Winter Bock will also be available in 22oz bottles in select grocery stores, bottle shops, bars, and on draft in select restaurants and bars around the Puget Sound. Winter Bock which will be released around mid October will take the next spot in rotation after Oktoberfest and is yet another lager in Silver City's seasonal line-up.
"We are so excited to be releasing our Winter Bock in this capacity" says Silver City Director of Sales & Marketing Kurt Larson. "In keeping with our seasonal theme of brewing & providing lagers that not only fit the season, but are highly sessionable, we feel Winter Bock will be the perfect addition to our line-up of lagers designed to celebrate each season."
Winter Bock Description
The weather outside may be frightful, so stay indoors & drink beer! Winter Bock's blend of five different German and domestic malts lend a deep, rich color and mild roast character to this classic winter lager.
 Just as old world brewers aged their beer in snow-covered cellars, Silver City stores Winter Bock for five weeks at near freezing temperatures. Cold conditioning makes Winter Bock the smoothest, most flavorful way we know to celebrate the winter season.
Alcohol By Volume: 7%
Hops: Nugget, Hersbrucker, Saaz
Malts: Pilsner malt, NW Pale, Munich, Caramel,
Chocolate, & Carafa
IBU's: 22
2011 North American Beer Awards: Gold Medal Winner
2008 North American Beer Awards: Silver Medal Winner
2007 North American Beer Awards: Bronze Medal Winner
2005 North American Beer Awards: Silver Medal Winner
About Silver City Restaurant & Brewery
Silver City Restaurant & Brewery is the Kitsap Peninsula's premier destination for award-winning, handcrafted beers, Northwest-inspired food, legendary hospitality, and great memories in a fun, friendly environment. Silver City was started in 1996 by Co-owners Steve & Scott Houmes, and it remains a locally owned and operated family establishment. Silver City Brewery's handcrafted beers are available at more than 100 Puget Sound area bars, restaurants, and grocery stores throughout Kitsap, Jefferson, King, and Pierce counties.
In May of 2010 Silver City opened their new production facility at 206 Katy Penman Ave. in Bremerton, WA to meet the growing demand for their beer in the retail market. The 7,600 sq. ft. facility will feature a tasting room late 2011 or early 2012.
Silver City's selection of Northwest-inspired food and handcrafted beers have resulted in more than 50 local, national and international awards including numerous Gold, Silver, and Bronze Medals at the prestigious Great American Beer Festival and the North American Beer Awards. Silver City is also the recipient of Evening Magazine's "Best of Western Washington – Best Brew Pub" Award four years in a row (2007-20010). In April 2010, Silver City was named, "Best Brewpub in the Nation," by Luxist Magazine.
For more information on Silver City Restaurant & Brewery, please visit us online at: http://www.silvercitybrewery.com, and on Facebook and Twitter.