Sierra Nevada Brewing Introduces Snowpack With Two New Beers
(Chico, CA) — Sierra Nevada Brewing Co. filled its third and final seasonal mixed 12-pack of the year with beers that ward off winter's bite. Aptly named, Snowpack features two brand new beers and two steadfast recipes. The variety pack starts heading to distributors this week and will be available through January 2015. Whether harnessing the comfort of coffee or borrowing a little bit of summer from the Southern Hemisphere, Snowpack helps uplift those hunkering down for the storm.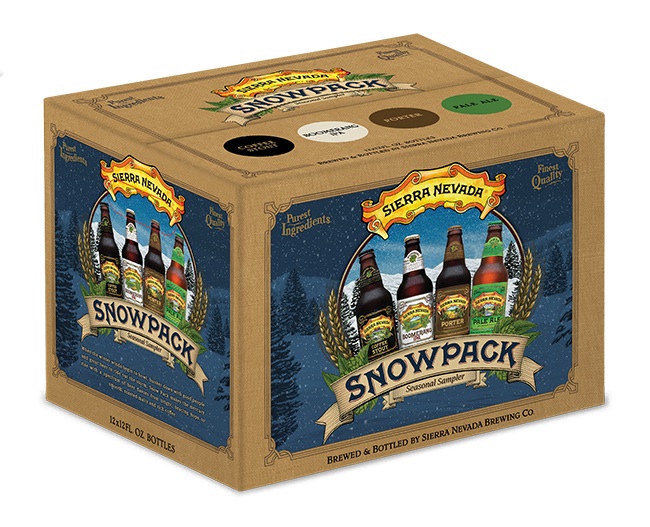 Boomerang IPA is a blend of American brewing style with Southern Hemisphere flavor. Sierra Nevada added heaps of vibrant Australian hops to this bold beer. With a light, balanced malt body and compelling floral and fruity hop aromas, Boomerang is an intriguing international spin on the classic IPA.
Coffee Stout combines the best of Sierra Nevada's two favorite brews—coffee and beer. The brewery blended the hearty flavors of coffee with dark roasted malts to create a complex and layered mix of dark chocolate, caramel and light fruity notes punctuated with a roasty, dry finish for the perfect cold-weather drink.
Porter was part of Sierra Nevada's inaugural lineup decades ago. Its big malt flavor earned it permanence, and craft drinkers continue to relish the rich, bittersweet and roasted gem. Medium bodied and balanced by crisp American hops, Porter is a great finale to a long winter's day of work.
Pale Ale began as a home brewer's dream, grew into an icon, and inspired countless brewers to follow a passion of their own. Its unique piney and grapefruit aromas from the use of whole-cone American hops have fascinated beer drinkers for decades and made this beer a classic, yet it remains new, complex and surprising to beer drinkers every day. It is—as it always has been—all natural, bottle conditioned and refreshingly bold.
"This mixed pack is a fun cross section of our brewery, a bit of a timeline" said Ken Grossman, Sierra Nevada's founder. "I remember roasting malted barley in my own kitchen in the early days of Porter, and today we're using coffee to create really complex flavors. I took road trips in the 70s to get my hands on Cascade hops, and here we are teaming up with friends in Australia who are growing new and exciting varieties. Snowpack shows how fun of a ride craft beer continues to be."
As Snowpack makes its way into stores, folks can track down the variety pack using Sierra Nevada's Beer Locator. The brewery is dialing in its 2015 lineup, which will weave in a fourth seasonal variety 12-pack to fill the calendar with even more diversity for craft drinkers
About Sierra Nevada Brewing Co.
Founded in 1980, Sierra Nevada Brewing Co. is one of America's premier craft breweries, highly regarded for using only whole-cone hops and the finest quality ingredients. The pioneering spirit that launched Sierra Nevada spans more than three decades, with innovation emerging from both the brewhouse and sustainability initiatives. Sierra Nevada has set the standard for artisan brewers worldwide as a winner of numerous awards for its extensive line of beers including Pale Ale, Torpedo®, Porter, Stout, Kellerweis® and a host of seasonal, specialty and limited release beers. Learn more at www.sierranevada.com.