Short's Brewing Co. Thanks Its Fans For The First Ten Years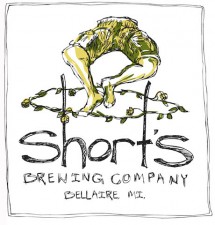 Bellaire, MI – Short's Brewing Company, Northern Michigan's largest craft brewery, turned 10 years old on on Saturday, April 26th. To celebrate their growth and success, Short's hosted a 10th anniversary party in Bellaire on that date.
The Anniversary party filled Bellaire's downtown, closing down the street to welcome about 6,800 guests to the small northern Michigan town, The event activities included tapping 99 unique beers, live music performed by Dean Ween and the Brown Outs, The Ragbirds, Breathe Owl Breathe, Steppin' In It, and Don Julin and Billy Strings, Joe Short's annual State of the Brewery Address, and a Eleven35 Productions film celebrating Short's past and welcoming their future.
Eleven35 Productions is a film and media production company pursuing aesthetic and artistic quality. Their team is a collective of artists and engineers who work hard to deliver top notch artistic work. The company was contracted by Short's in early January to create a short film celebrating the ten years of Short's existence.
The production team's goal was to richly communicate the character and personality of Short's, their beer, and Joe Short. "Watching the video was a surreal experience," stated Joe Short. "I was blown away by its ability to capture the humor and hard work of our team and beer, all while keeping people anxious for what we are going to do next."
The short film can be found on Short's YouTube channel or website at www.shortsbrewing.com.
The success of the Anniversary party could not have been achieved without the help and support from the local community. "I love what I do, where I live, and the people I do it with," said Short. "It is the Bellaire community, and the people of Michigan that have propelled Short's to continuous yearly growth and boundless creativity."
www.shortsbrewing.com – @ShortsBrewing – facebook