Shmaltz Brewing and Redstone Meadery Collaborate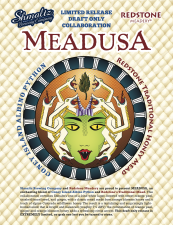 Schmaltz Brewing and Redstone Meadery team up to create Meadusa.
It will be featured around the Bay Area during the week of CBC at the end of the month.
Click on the image to enlarge the poster. Details below. Cheers!
Shmaltz Brewing Company and Redstone Meadery are proud to present Meadusa, an enchanting blend of Coney Island Albino Python and Redstone's Traditional Mead. This collaboration entwines Shmaltz's one-of-a-kind white lager, brewed with sweet orange peel, crushed fennel seed, and ginger, with a classic mead made from orange blossom honey and a touch of alpine Colorado wildflower honey.
The result is a tantalizing and surprisingly light-bodied elixir that is bright and balanced (roughly 7% ABV); the combination of orange peel, ginger and orange blossom honey adds a refreshing citrus accent. This draft-only release is EXTREMELY limited, so grab one lest you be turned to stone.