SF Beer Week Is Like Godzilla, Only Bigger (And Not Angry)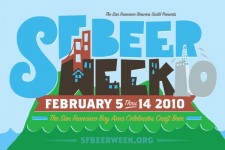 SF Beer Week 2010 is already at 50 events! SFBW09 had a pretty impressive 155 different events, and SFBW10 is already a third of the way there. By my math, we're on pace for something like 321,438 events this year! Beer Week Hall of Fame, here we come.
Some recent additions:
Canned beer tasting and discussion with Uncommon Brewers at 515 in Santa Cruz
Beer and Chocolate event for Charity: Drake's Brewing Co. and Bittersweet Chocolate Co. at Craneway Pavilion in Richmond
Lagunitas on tour: Lagunitas nights at Taps in Petaluma, The Sweet Spot in Santa Rosa, and The Toronado in SF
A Sierra Nevada night and an Anchor night at Pi Bar, with paired small plates
Meet the Brewers: Adam Lamoreaux of Linden Street Brewery at The Page, Rob Tod of Allagash Brewing Co. at The Trappist
Importer night at The Trappist: Vanberg and Dewulf showcase Dupont and Witkap beers
Homebrewers Beerfest at Park Chalet, with expert panel, feedback, and homebrewing demo
Some of the range of beer dinners:
A beer dinner at Lagunitas Brewing Co. with the head brewer
A Weeklong beer dinner at Beach Chalet
An intimate, 10-person Brewery Cellar Dinner at ThirstyBear with barrel tasting
A detox/retox organic, vegan beer dinner at Millennium
We've posted some new photos and videos on facebook (San Francisco Beer Week), so check 'em out. Make sure you're following @sfbeerweek on Twitter, too, while you're at it.
Thanks again to our sponsors, the SF Brewers Guild, ThirstyBear Brewing Co., Speakeasy Ales & Lagers, Magnolia Pub and Brewery, Gordon Biersch Brewery Restaurants, 21st Amendment Brewery, Starbelly Restaurant, Delarosa Restaurant, Jay Brooks, and Morris Distributing. We couldn't do it without them.
Enjoy your last beery week of 2009!
Salute,
Rich Higgins
First Mate, SFBW Goodbeer Blimp
www.sfbeerweek.org ~ Twitter: @sfbeerweek ~ facebook: san francisco beer week