Second Self Beer Releases Triforce IPA!
(Atlanta, GA) – Second Self Beer Company will release Triforce IPA (6.1% ABV, 45 IBU), a slightly hazy IPA inspired by an iconic video game series tomorrow, Saturday, January 13th. Brewed to embody the sacred relic's three pieces: power, courage and wisdom, Triforce IPA is made with the triforce of malts (oats, wheat and barley) and hops (Mosaic, Amarillo and Cascade). These combine to create a unique IPA that has the aroma and flavor of papaya, mango and other tropical fruits, with a soft, flavorful mouthfeel to balance this truly inspired beer.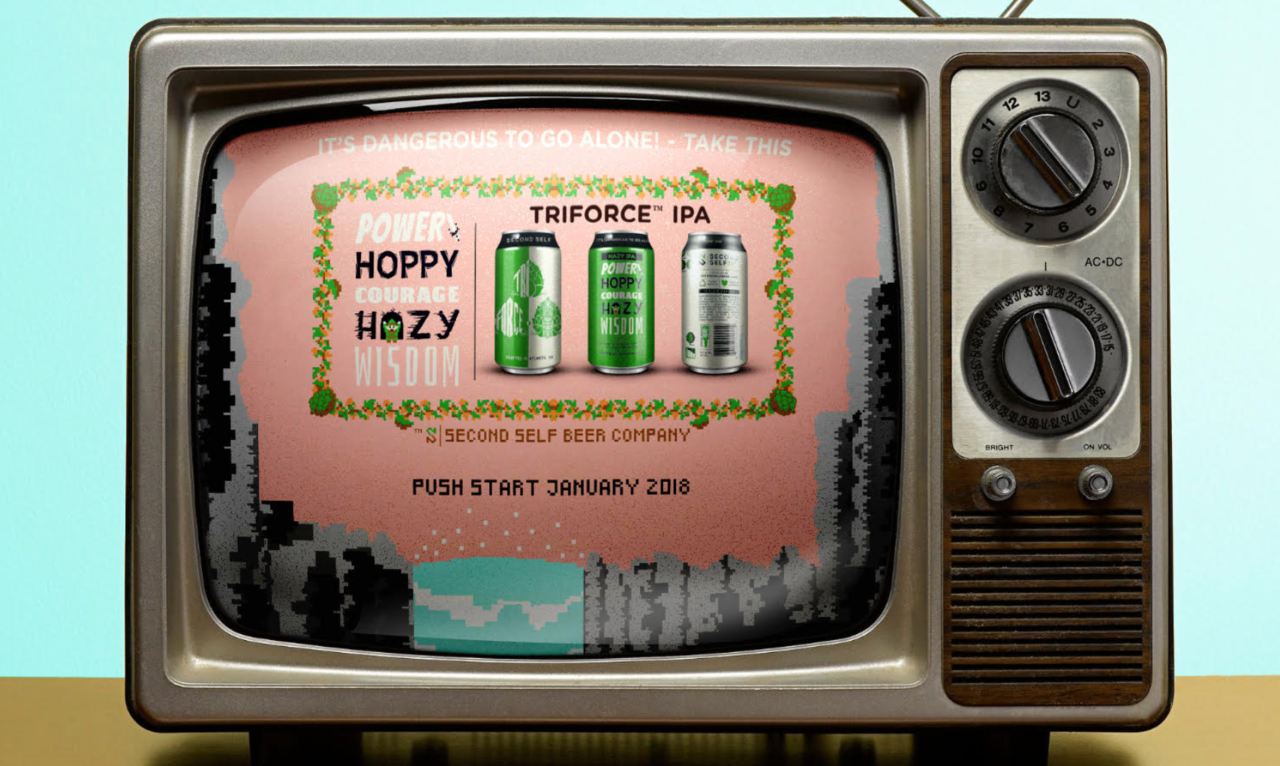 Suggested pairings for the beer include tacos, barbecue, fresh vegetables, ceviche, fromage blanc and magical potions. The graphic label plays on the classic video game and was designed by artist Keith P. Rein, who also created the popular artwork for Second Self's limited-edition beer: Manic Pixie Dream Beer #1.
To celebrate Triforce's debut, Second Self is hosting a release party tomorrow, January 13th, from noon to 9pm at the brewery's taproom in Atlanta's Westside neighborhood. Visitors can play video games, be the first to taste Triforce IPA and enjoy Triforce tacos from the Real Mexican Vittles. Triforce IPA 6-packs and cases will be available for to-go purchase. Guests are encouraged to show up in costume, and the costume contest winner will receive a Triforce IPA prize pack. The party will also kick off an epic Triforce IPA QUEST around Atlanta bars, restaurants and stores. Maps and compasses needed to embark on the quest will be available at the launch party. For more information, click here.
Triforce IPA will be available on draft and in cans at Second Self's taproom in Atlanta (1317 Logan Circle NW) and at stores, bars and restaurants throughout Georgia and Alabama beginning January 13th.
ABOUT SECOND SELF BEER COMPANY
With over a decade of brewing experience, Second Self's Co-Founders Jason Santamaria and Chris Doyle released their highly acclaimed beers to the public in fall 2014. Second Self's beers are brewed with fresh ingredients like blue ginger and lemongrass (never dried ingredients or extracts), and each beer is designed to be paired with food. Last year, Second Self opened an expanded taproom at their Westside brewery located at 1317 Logan Circle NW, Atlanta, GA. Designed by Adrenaline, Inc., their graphics have been recognized at Tastings.com's 2015 World Beer Championships Packaging Competition and Graphic Design USA's 2015 American Graphic Design Awards. The craft brewery has been nationally recognized by Food & Wine, DRAFT Magazine, Beer Advocate, Fortune, Paste Magazine and more.
www.secondselfbeer.com – @secondselfbeer – facebook