Sebago Brewing Releases New Single Batch Series Beer, Elegans Saison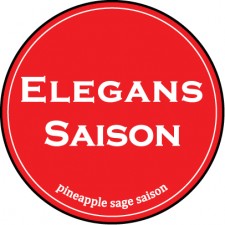 Sebago Brewing Company Releases Single Batch Series Beer, Elegans Saison A winter saison brewed with Pineapple Sage
Gorham, Maine – Sebago Brewing Company is pleased to announce the release of their new Single Batch Series beer, Elegans Saison on Friday February 17th, 2012. Elegans Saison was first brewed on the pilot brewing system at Sebago, designed to test new and experimental beers. The top beers brewed on the pilot brewing system will be released as Single Batch Series beers in the future.
Saison is a classic Belgian beer style renowned for its complex fruitiness and aroma. It was traditionally brewed by farms for the seasonal workers. Elegans Saison (6.1% ABV) is a ruby red colored saison is brewed with pineapple sage, an herb from the mountains of Central America. Pineapple sage (salvia elegans) imparts delicate notes of lemongrass and tangerine to complement the bready malt aroma and caramelized sugar flavors. A balanced bitterness ends each sip and cleanses the palate, leaving you thirsty for more.
Style: Saison
ABV: 6.1%
IBU's: 26
Color: Brownish Red that clarifies to a brilliant red
Aroma: Pepper, cinnamon, caramel, mint, pineapple, lemon peel, cut grass
Appearance: Deep amber-red hue. Moderate Carbonation
Flavor: Fruity esters and sweet bread, transition into caramel and spicy flavors, finish with a clean, pronounced bitterness leaving only a mildly malty aftertaste
Ingredients: Munich and Crystal malts, wheat and oats, Turbinado Sugar
Hops: Saaz
Pairing Suggestions: BBQ, spiced foods, grilled meats, sharp cheese and chocolate
Sebago Brewing Company will celebrate the release of Elegans Saison and offer a tasting of several beers brewed on the pilot system on Wednesday February 29th at Pilot Beer Night at their Portland brewpub (211 Fore Street). The event begins at 5:00pm. More information and a list of available new, rare, and experimental beers can be found here.
Elegans Saison is a limited-release Single Batch Series beer, available beginning February 17th on draft at all Sebago Brewing Company locations and in 22oz bottles at better beer stores throughout New England.
The next beer release by Sebago Brewing Company will be the very popular early spring seasonal, Full Throttle Double IPA, available in March 2, 2012 on draft, in kegs and in 4-packs throughout New England, including Vermont.
About Sebago Brewing Company
Since its creation in 1998, Sebago Brewing Company has been brewing unique, high quality craft beers. Originally a single brewpub, Sebago has grown to include four brewpubs and to package beer distributed throughout New England. Sebago Brewing Company continues to tempt and arouse the palates of New England's beer lovers. Sebago Brewing Company uses all American malt, hops and crisp water from Sebago Lake.
www.sebagobrewing.com – @SebagoBrewing – Facebook