Sebago Brewing Releases Bourbon Barrel Aged Lake Trout Stout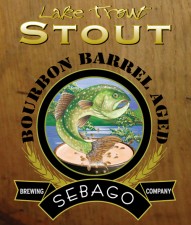 Gorham, Maine – Sebago Brewing Company is pleased to announce the release of their newest Single Batch Series beer, Bourbon Barrel Aged Lake Trout Stout on Friday March 1, 2013.
Bourbon Barrel Aged Lake Trout Stout is a smooth velvety twist on the classic Lake Trout Stout. This beer was aged in fresh charred oak bourbon barrels and carefully blended with fresh stout to balance the character of the barrel with the boldly familiar flavor of Lake Trout Stout. Unlike the draft Lake Trout Stout, this beer is carbonated to enhance the bourbon barrel experience.
Bourbon Barrel Aged Lake Trout Stout has a rich and full-bodied character, complemented by hints of vanilla, oak and bourbon.
BEER DETAILS
Original Gravity: 13.5 °P
Color: Midnight Black 170 SRM
ABV: 4.7%
IBU's: 32
Pairing Suggestions: rich sauces, grilled meats, or chocolate
Bourbon Barrel Aged Lake Trout Stout is a Single Batch Series Beer available for a limited time on draft and in 22oz bottles at all Sebago locations as well as better beer stores throughout New England.
About Sebago Brewing Company
Sebago Brewing Company is a Maine-owned and operated company firmly rooted at the crossroads of food and beer. Since opening in 1998, Sebago has become Maine's premier contemporary American brewpub and one of the fastest growing craft breweries in the state. Sebago offers a full line of year round beers, five seasonal beers, and several highly-anticipated limited edition Single Batch Series beers that have a reputation as creative, high quality, unique beers that tempt and satisfy the palates of New England's beer lovers.
www.sebagobrewing.com – @SebagoBrewing – Facebook